Loading...


Courts and Crime



Wednesday, August 14, 2013




Chardon victims among speakers at anti-gun violence rally in Akron




A thousand mayors across the country are backing the effort


by WKSU's TIM RUDELL


Reporter
Tim Rudell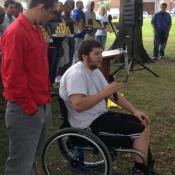 Nick Walczak (center) and Nate Mueller (left) survived the Chardon High School shooting attack. Walczak suffered four gunshot wounds and is confined to a wheelchair.
Courtesy of TPR
Download (WKSU Only)
In The Region:
The Drive to Reduce Gun Violence stopped in Akron on Wednesday. WKSU's Tim Rudell reports on the mobile anti-gun rally rolling by bus across the country…and, on how two local shooting victims lent their voices to the campaign's call for better background checks on gun buyers.
The Drive
...is sponsored by the national, "Mayors Against Illegal Guns" organization.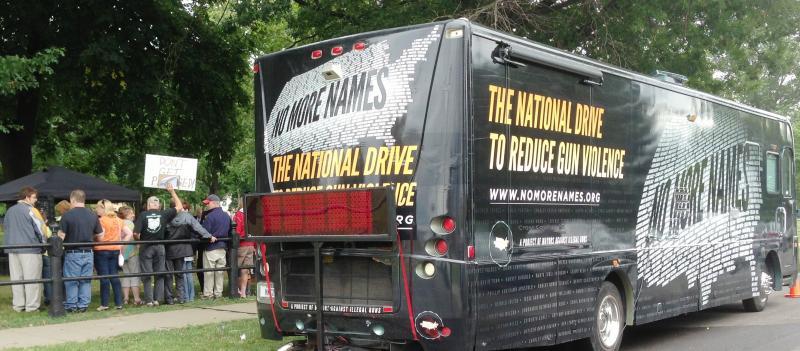 The 100-day, 25-state tour urges Congress to expand the background check requirement for gun purchasing to include sales at gun shows and on the internet, where it's not mandatory now.
Mayors message
About 100 people listened at Grace Park near downtown Akron to a message delivered by two area Mayors, Brad Seller of Warrensville Heights and Don Plusquellic of Akron,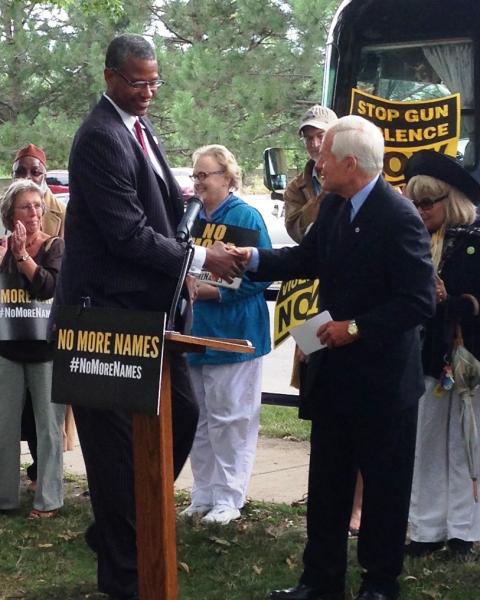 said, while broadening checks won't stop illegal gun ownership, they can reduce it.

Victims speak
Chardon school shooting survivors Nick Walczak--who was paralyzed--and Nate Mueller were among the speakers.

"On February 27th of 2012 at 7:30 in the morning, my life was changed and so was Nate's, and so was the Chardon community's, because of a senseless gun violence act," Walczak said.

Mueller added: "We need background checks, it needs to be solid, we can't let anybody slip through the cracks. Things need to change. It's not OK for things to be like they are right now."

"Like everyone has been saying…it at least stops a little bit throughout the country. That's all we ask," said Walczak



Questions
In a smaller gathering down the street, which several in the group said was not a protest but a counterpoint, gun rights advocates said they agreed with the idea of keeping guns away from criminals, but didn't want new rules that would include a national government data-base of gun owners.
---
Related WKSU Stories

United Way ordered to set aside $50,000 for Chardon victims, families
Friday, June 28, 2013

Chardon continues its healing with help from Gov. Kasich
Monday, June 3, 2013

Families of Chardon shooting victims sue United Way
Wednesday, May 22, 2013

Mental health needs rise after the Chardon shooting anniversary and sentencing
Thursday, March 21, 2013

Lane pleads guilty in Chardon High School shooting
Tuesday, February 26, 2013
---
---
---
Stories with Recent Comments