Loading...


Ohio



Friday, August 16, 2013




Zack Reed DUI trial will probably stretch to next week




Other noon headlines: Ohio jobless numbers essentially flat; Former Deputy Treasurer to plead not guilty to bribery charges; Report critical of Obama's role in GM bankruptcy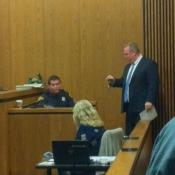 Officer Aaron Petit, the arresting officer in the Zack Reed DUI case, being cross-examined by defense attorney Kevin Spellacy this moring
Courtesy of Kevin Niedermier
Download (WKSU Only)
Ohio jobless numbers essentially flat
Former Deputy Treasurer to plead not guilty to bribery charges
Report critical of Obama's role in GM bankruptcy
Day two of the DUI trial of Cleveland City Councilman Zack Reed is underway. Jury selection and opening statements took up most of yesterday, with witnesses from both sides taking the stand through this afternoon. Experts projected the trial would wrap up today, but the defense now says it plans to call Reed himself on Monday. In March, the councilman pleaded not guilty to his third drunken driving charge in eight years. At the time, Reed's attorney said the councilman wanted a jury trial and that he intends to challenge the suspension of his driver's license. It was automatically taken away because he refused to take a Breathalyzer test after being pulled over for allegedly running a red light and making an illegal turn. Reed was convicted of drunken driving in 2005, and served some jail time and went to rehab for his second offense in 2008. Reed, who has admitted he has an alcohol problem, faces up to six months in jail plus house arrest if convicted.

Ohio jobless numbers unchanged from June to July
Ohio's July jobless numbers are in and there's not much change from June. The unemployment rate was unchanged at 7.2 percent, but the actual number of unemployed increased by 3,000 over the past month. Overall, the number of unemployed Ohioans has increased by 1,000 over the past year. But the state's latest job numbers are still better than the national average, which was 7.4 percent, down slightly from June, and almost a point less than July of last year.

Report critical of Obama's role in GM bankruptcy
A government inspector general says President Barack Obama's administration played a key role in the General Motors bankruptcy in 2009 as pensions were cut for salaried Delphi retirees but not unionized workers and retirees of the supplier. The report issued Thursday stopped short of saying the administration's role was right or wrong. It made no recommendations. About 20,000 salaried Delphi retirees — nearly half in Ohio — saw their pensions cut by as much as 70 percent during GM's bankruptcy. The report says administration officials indicated they acted quickly to avoid GM's failure. The Treasury Department, which oversaw the president's auto task force, took issue with the report. A spokesman said the pension decision was made by GM and was "driven by sound commercial reasons."

Former Deputy Treasurer to plead not guilty to bribery charges
A defense attorney says a former Ohio deputy treasurer accused in a bribery and money laundering scheme will plead not guilty in federal court Monday. A federal grand jury in Columbus indicted Amer Ahmad on charges including money laundering, wire fraud, conspiracy to launder money, bribery and making false statements. Ahmad served as top deputy when Democrat Kevin Boyce was state treasurer. Attorney W. Kelly Johnson said Friday that Ahmad will plead not guilty to all charges. The grand jury also indicted Columbus attorney and bank lobbyist Mohammed Noure Alo on conspiracy and other charges. Alo's attorney didn't return calls for comment. Ahmad's relationship to Alo figured heavily in the 2010 treasurer race, which Boyce lost to Republican Josh Mandel. Ahmad later served as Chicago's comptroller.

Anthropologists examining Tallmadge remains
Forensic anthropologists from Mercyhurst University in Erie, Pa., are examining the remains of a woman and her 5-year-old son to help northeast Ohio authorities determine how the pair died. Mercyhurst professor Dennis Dirkmaat tells the Akron Beacon Journal the examination he's leading probably will continue through the weekend. Police have said it's unclear when and how 31-year-old Wendy Ralston and her son, Peyton, died. The decomposed remains were found last weekend in woods behind their home in Tallmadge, about 25 miles south of Cleveland. Police are investigating the deaths as homicides and have said they don't have a suspect. An investigator's report indicated the remains appeared to be wrapped in a sheet and a bed comforter when Ralston's mother found them while visiting the home.

---
---
Stories with Recent Comments