Loading...


Government and Politics



Saturday, August 17, 2013




Ohio is getting more than $1.1 million in energy grants




Grants help rural and agricultural businesses start energy-saving and renewable energy projects




Story by

LYNDSEY SCHLEY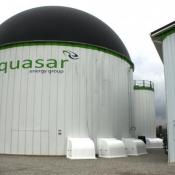 Half a million dollars of the grant money will go towards building an anaerobic digester, like this one.
Courtesy of Jeff St. Clair
Download (WKSU Only)
In The Region:
Small rural and agricultural businesses in Ohio are getting more than $1.1 dollars in energy grants from the Department of Agriculture. The money is to help reduce energy usage or use more renewable energy. The only state receiving more grant money this go-around is North Carolina. Millersburg-based lumber company Trico Enterprises is getting the fourth-largest grant. President Darryl Chajon says it will help his company convert a diesel-hydraulic sawmill to electric.
"One, the maintenance cost on hydraulic lines and motors and pumps is pretty extensive," Chajon says. "Secondly, the cost of electric versus diesel is one fourth the cost."
Ohioans received 33 grants, ranging from $6,000 improve lighting systems at a trucking company to $500,000 to build an anaerobic digester, which uses waste material to produce natural gas.
---
---
Stories with Recent Comments