Loading...


Courts and Crime



Tuesday, August 20, 2013




Jury deciding Cleveland Councilman Reed's DUI charge




Reed facing a possible third drunk driving conviction


by WKSU's KEVIN NIEDERMIER


Reporter
Kevin Niedermier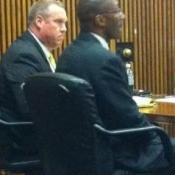 Councilman Zack Reed (R) listens to testimony in his DUI trial. Next to him is his attorney Kevin Spellacy.
Courtesy of Kevin Niedermier
Download (WKSU Only)
In The Region:
A jury is deciding if Cleveland Councilman is guilty of drunken driving. Zack Reed has been convicted of D-U-I twice before. His trial began last Thursday and has included testimony from officers who pulled him over for alleged traffic violations, and from bar employees who say he wasn't drunk that night. Officer Aaron Petit told the jury that when he stopped Reed's car he could detect a strong alcohol odor even before he reached the driver side window. But two officials from the city jail where Reed was booked testified that they did not smell any alcohol on Reed. In closing arguments defense attorney Kevin Spellacy questioned officer Petits story.
"Is it to embellish or make himself look better in from of you? Is it to demean Zack Reed? I don't know, but I know one thing, he had to take back those words eventually. He said I didn't mean that, I meant something very different."

Police still testified that Reed smelled of alcohol, had slurred speech and failed the field sobriety tests. And he refused to take breath, blood or urine tests for alcohol. If convicted he could recieve up to 6 months in jail, lose his driver's license for 5 years and be forced into an alcohol treatment program.
---
---
---
Stories with Recent Comments