Loading...


Government and Politics



Tuesday, August 20, 2013




Sweeney renews call for Reed to quit Cleveland council after third DUI




But other council members say it is up to the voters to decide


by WKSU's KEVIN NIEDERMIER


Reporter
Kevin Niedermier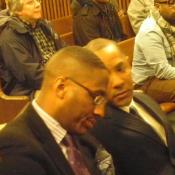 Cleveland Councilman Zack Reed fought his third DUI in Municipal Court, but the jury sided with prosecutors.
Courtesy of KEVIN NIEDERMIER
Download (WKSU Only)
In The Region:
A jury has found Cleveland City Councilman Zack Reed guilty of his third DUI. Reed had pleaded not guilty to drunken driving after being arrested during a traffic stop in March. Police say he smelled of alcohol, had slurred speech and failed field sobriety test. Reed would automatically be ejected from council had he been convicted of a felony. But because his three DUI's stretched over more than a six-year period, this conviction is still a misdemeanor. City Council's senior member, Mike Polensek, calls Reed a good council member who needs to get help, and says the residents of Reed's ward should decide his fate.
"It is a sad situation. Nonetheless, it's up to the people of his community to judge him, and obviously Sept. 10th, with the primary election, they'll indicate their thoughts on this."
Reed's sentencing is scheduled for Sept. 5. He could receive 10 days to six-months in jail. If a council member misses 10 consecutive regularly scheduled meetings, he can be kicked off council.
In a press release issued after the most recent conviction, Council President Martin Sweeney says he has asked Reed to resign before and after the latest conviction, "My position has not changed."
---
---
---
Stories with Recent Comments