Loading...


Education



Wednesday, August 21, 2013




New school report cards coming Thursday




Revised system uses letter grades in nine categories, as opposed to one overall rating


by WKSU's KABIR BHATIA


Reporter
Kabir Bhatia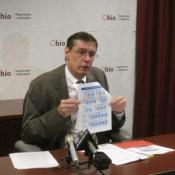 Then-Ohio schools chief Stan Heffner displaying the state report cards released in 2011
Courtesy of Karen Kasler
Download (WKSU Only)
In The Region:
"Excellent with Distinction" will be a thing of the past for Ohio schools starting tomorrow.

The state's new letter-grade report card system will tell educators, parents and taxpayers how their schools are doing in nine areas such as graduation rates, and academic progress as measured by proficiency tests. The new system was part of last fall's House Bill 555. Ohio Department of Education spokesman John Charlton says the letter grades are more familiar to parents, and more revealing about where schools need to focus.

"This new report card is going to be a better indicator as to where schools are actually performing at. You're not going to see 400 schools that are 'Excellent' or 'Excellent with Distinction.' You're going to see a lot of schools that need to improve in several areas."
Charlton says the system will evolve over the next four years -- from its current nine grading areas to 18, plus an overall grade, by 2016.
---
---
---
Stories with Recent Comments