Loading...



From WKYC.COM / TV 3
Get the latest school closings and delays


Funding for WKSU is made possible in part through support from the following businesses and organizations.
---
For more information on how your company or organization can support WKSU, download the WKSU Media Kit.

(WKSU Media Kit


)
---

Economy and Business



Thursday, August 22, 2013




Steelworkers OK four-year Goodyear deal




Members join those at Bridgestone in ratifying contract with boosts in pay, and job/retirement security


by WKSU's M.L. SCHULTZE


Web Editor
M.L. Schultze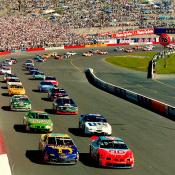 The contract covers some 8,500 workers including those who make race car tires at a plant in Akron.
Courtesy of Darryl W. Moran Photography
Download (WKSU Only)
In The Region:
The United Steelworkers have now approved two of three contracts with major tire companies. The union announced today that its members OK'd a new four-year deal with Goodyear Tire and Rubber by a margin of 3-1. The Steelworkers represent about 8,500 workers at six U.S. plants, including the one in Akron that produces race-car tires. The new deal includes a cost-of-living adjustment that now applies to all of the unionized workers. The USW says the contract also increases flexibility for Steelworkers to move among jobs and increases retirement and job security. Two weeks ago, rank-and-file members of the USW at Bridgestone-Firestone approved a similar four-year contract, but those at BF Goodrich turned down a three-year deal.
---
---