Loading...


Government and Politics



Thursday, August 22, 2013




Cleveland police union endorses Ken Lanci for mayor




Patrolman's association claims low morale and lack of support by the Jackson administration in the investigation of a November chase shooting


by WKSU's KABIR BHATIA


Reporter
Kabir Bhatia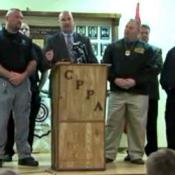 CPPA President Jeff Follmer, flanked by members of the Cleveland Police Patrolmen's Association, blames Chief of Police Michael McGrath for the department's poor morale and called for his resignation in February
Download (WKSU Only)
In The Region:
The Cleveland Police Patrolman's Association today announced its support for Ken Lanci for mayor. The move comes amidst the stormy aftermath of last November's deadly police chase.
The patrolman's association called on Police Chief Michael McGrath to resign earlier this year, citing a lack of support and low morale during the investigation into a massive car chase and fatal shooting last November. The union also says Mayor Frank Jackson has not supported police after Ohio Attorney General Mike DeWine labeled the half-hour pursuit "a systemic failure."

So, the union has endorsed businessman Ken Lanci for mayor.
It is not commenting on the decision, saying the endorsement speaks for itself.

The investigation into the chase has resulted in a firing, demotions and suspensions of police supervisors involved. Now, dozens of patrolmen who were involved are going through disciplinary hearings.

McGrath and Jackson say officers failed to follow protocol, but the union says the city never gave its officers adequate training for such chases.

Sixty police cars were involved in the chase, which ended with police firing nearly 140 rounds at driver Timothy Russell and his passenger, Malissa Williams, in East Cleveland.
---
---
---
Stories with Recent Comments