Loading...


Ohio



Monday, August 26, 2013




Summit County leads state in meth busts




State has 635 busts so far in 2013, compared with 607 in all of 2012




Story by

BRIAN BULL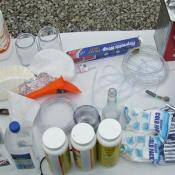 Ingredients seized from a mobile meth lab in Stark County
Courtesy of Ohio State Highway Patrol
Download (WKSU Only)
In The Region:
The Ohio Bureau of Criminal Investigation says meth lab busts for the current fiscal year are already at 635, compared to 607 all of last year. And that's up from 375 in 2011.

Ohio Attorney General Mike DeWine suggests that meth production is becoming increasingly harder to track, because it's getting simpler and more portable. Where meth makers once needed a lab set up inside a house or similar structure, many can now make the drug inside large plastic pop bottles, which are then sometimes discarded in streets and other public areas.
"We had a Boy Scout troop a while ago, they were cleaning up along the road. And one of the scouts came upon one of these bottles and actually suffered some burns as a result of that. So we just warn people to be very, very careful."

Summit County authorities have reported the most meth lab busts this year, at 191 so far. That's nearly a third of the statewide total. DeWine says that may suggest meth production and use is high in Summit County, but it may also be that local police are quite effective at busting these facilities.




---
---
Stories with Recent Comments