Loading...


Courts and Crime



Saturday, August 24, 2013




Teaching inmates to start businesses




The Reset program is designed to help former criminals change their presentation, attitude and behavior




by WKSU's STATEHOUSE BUREAU CHIEF KAREN KASLER



Reporter
Karen Kasler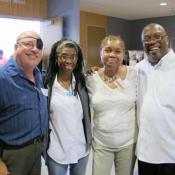 John Voorhies, Wendy Adcock, Vanita Nevis and Weslee Pullen are all working with Reset to help former inmates work on their business plans
Courtesy of Karen Kasler
Download (WKSU Only)
In The Region:
One of the toughest issues facing people leaving prison is finding meaningful employment that helps them establish new lives. Ohio Public Radio's Karen Kasler reports some are being taught a novel approach -- do it yourself.
Most of the people locked up in Ohio's prisons will spend less than a year behind bars – and then they'll have to go back out and find work. But ex-con Weslee Pullen of Columbus says it's tough to help employers see beyond a criminal past.

"I have to be able to present myself in a way where people can understand that everyone deserves a second chance. What I did was not who I am; it was a mistake. We all make mistakes."

Vanita Nevis works with the state, and she's developed a program she calls Reset, which she says helps former criminals change their presentation, their attitude and their behavior – with one specific goal.

"When people get out of prison, they now have a record. They're a felon. They check that box. What happens? Employers will not hire them ... regardless of what the crime was. So I thought the alternative is, start your own business."

Drawing up a business plan
Nevis and Pullen are now working together to teach Reset in some of Ohio's prisons. And it's working, says John Voorhies. He's a professor at Zane State College in Zanesville and a counselor at one of the small-business development centers where former inmates will come to work on their business plans.

"We've got a lot of people opening up restaurants and food services, cleaning services, trucking services, the full gamut of small businesses."

Nevis and Pullen acknowledge that everyone's not suited to be an entrepreneur, but they say the skills they teach can help former inmates figure out what employers are looking for and to be better employees when they're hired.

That was true for Wendy Adcock of Columbus, who started Fusion Bakery Café after finding she couldn't get hired when she was released from prison.

"It was one of my major frustration,s which actually pushed me into starting my own business. And oddly enough, after I started my own business, I ended up getting a job through catering."

Adcock now works for a Columbus agency that helps ex-cons transition to life outside of prison.

The state is also helping former inmates by putting together an annual Restored Citizen Summit in Columbus. Some 20 community groups hold workshops and offer advice on finding financial resources to go back to school, pay for child support, get back their driver's licenses, and of course, secure that all-important job.
---
---
---
Stories with Recent Comments