Loading...



From WKYC.COM / TV 3
Get the latest school closings and delays


Funding for WKSU is made possible in part through support from the following businesses and organizations.
---
For more information on how your company or organization can support WKSU, download the WKSU Media Kit.

(WKSU Media Kit


)
---

Health and Medicine



Friday, August 23, 2013




Mustard Seed Market to break ground in Highland Square




Market announced in March, 2011 will finally begin construction next week


by WKSU's KABIR BHATIA


Reporter
Kabir Bhatia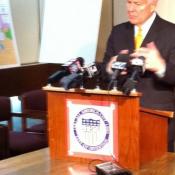 Akron Mayor Don Plusquelllic in 2011, touting plans for the new Mustard Seed Market
Courtesy of Tim Rudell
Download (WKSU Only)
In The Region:
Mustard Seed Market's long-promised Highland Square location is slated to break ground next week. In a press release today, Akron Mayor Don Plusquellic said the "long and complicated process" of opening the market's third location is finally a done deal.
Plusquellic says part of the delay stems from the small, irregularly shaped space the store will occupy at the corner of Portage Path and West Market Street. Mustard Seed had originally announced plans for the market in March, 2011.
The two-story store will feature a restaurant, just like the original location in Montrose. A third location in Solon does not feature a restaurant.
---
---