The big white dog is about as laid back as a pooch can be, and that is part of his training. He will lay his head on your lap or curl up at your feet on command. His job is to be a calming influence that crime victims can hold on to when being interviewed. He even lies next to them when they testify in court.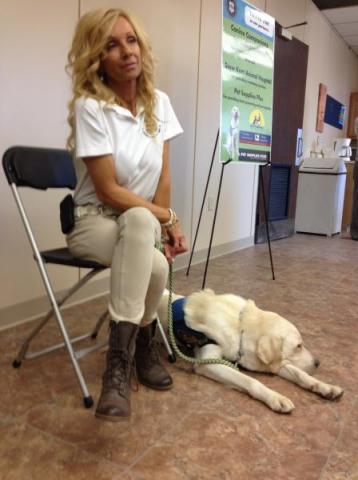 In Avery's first week on the job, Prosecutor Sherri Bevan Walsh says he stayed with a little girl, who was a rape victim.
"We had her sit with Avery in our interview room as she was waiting to be called over to court. She ended up being here a long time;, they got delayed over in court. She was here pretty much the entire afternoon and into the early evening. She commented to us that had Avery not been with us, she would have cried the entire time."
Walsh says what was even harder was that the girl's testimony was postponed.
"When we told her she'd have to come back a second day, the first thing she said was, 'If I come back a second day, will I get to see Avery again?' "
The girl said Avery made her feel calm. The dog will be used for traumatized adult victims as well.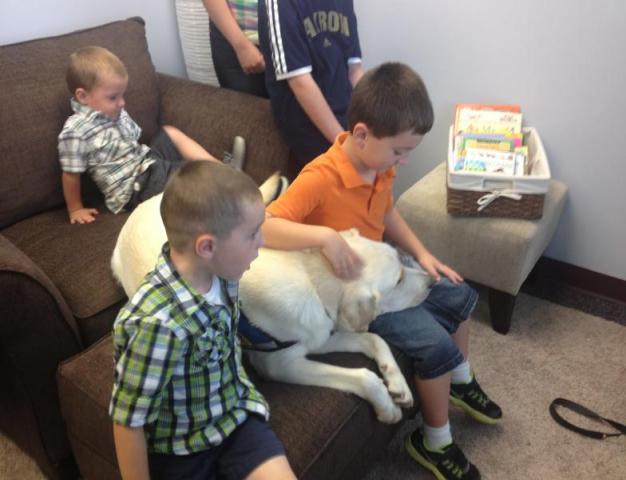 Bevan Walsh is the first prosecutor in Ohio to have a full-time "facility dog" on hand and she outfitted a special interview room with big soft chairs for the dog and the victims.

The dog was trained and provided by Canine Companions for Independence at no cost to the county. Veterinary care is donated by Stow-Kent Animal Hospital and food is donated by Pet Supplies Plus.

CCI still owns him, but Avery goes home each night with a county employee who says once the dog is given the "release" command, he becomes as rambunctious as any dog.