Loading...


Economy and Business



Monday, August 26, 2013




The parent company of Cleveland Scene magazine is putting the business up for sale




The future of Cleveland Scene magazine will depend entirely on its buyer. Analysts compare the sale to the plot of Black Beauty




Story by

LAUREN SCHMOLL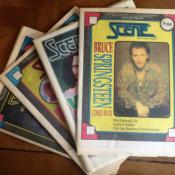 The Pennsylvania company that owns Scene is shedding some of its more distant properties.
Courtesy of KABIR BHATIA
Download (WKSU Only)
In The Region:
The Cleveland Scene magazine is going up for sale by its parent company Times-Shamrock, according to Crain's Cleveland Business. The company is based in northeast Pennsylvania and is selling some of its more distant properties. It acquired Scene in 2008 and said the alternative weekly has been strong and profitable. What the sale means for Scene and for Northeast Ohio remains unclear. Rick Edmonds is a media business analyst at the Poynter Institute. He says the impact will depend entirely on the buyer.

"That could be somebody who is willing to reinvest and revitalize. Or it could be somebody who thinks that even though there have been some cuts made, there is a lot more than can be done on the cost-savings side. I saw somebody recently comparing the whole thing to the plot of 'Black Beauty.' Sometimes you get a good owner who feeds you well and sometimes you get a bad one."
Edmonds says sales of newspapers have picked up over the last year and a half. Many companies like Times-Shamrock are selling properties viewed as less essential. A sale typically takes about six months to complete.
---
---
Stories with Recent Comments