Loading...


Ohio



Monday, August 26, 2013




Ohio's former Gov. John Gilligan dies




Champion of Medicare and the EPA, Gilligan and his daughter, former Kansas Gov. Katheleen Sebelius, became the only father-daughter pair of governors in the U.S.


by WKSU's M.L. SCHULTZE


and

MARK URYCKI



Web Editor
M.L. Schultze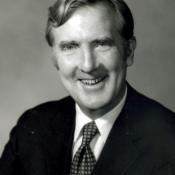 Ohio Gov. John Gilligan championed the EPA and state income tax during his one term in office.
Courtesy of Ohio History Central
Download (WKSU Only)
In The Region:
Former Ohio Gov. John Gilligan has died at age 92. Gilligan was governor from 1971 to 1975, and established the state's first Environmental Protection Agency and personal income tax. He also was the father of Kathleen Sebelius, the former Kansas governor and current U.S. secretary of health and human services. In a speech at the Democratic National Convention last summer, she said her father also cared deeply about health care for all, and personally recognized the benefits of Medicare.
"Some of you know our father, Jack Gilligan, who was – I might say – a great governor of the state of Ohio. He's now 91. He was in Congress, sat on the Energy and Commerce Committee, during the years that Medicare was written into law. So he helped to shape that law, he helped to pass that law. And I can tell you at 91, he's really glad he did because he is a happy beneficiary of Medicare."
Gilligan was newly elected as governor when he proposed the state income tax. He won after an 11-month battle with lawmakers.
He became a one-term governor when Republican James A. Rhodes narrowly defeated him in 1974.
Statement by President Obama on the death of former Ohio Gov. John Gilligan:
Jack Gilligan lived his life in service to his fellow Americans, especially those in his home state of Ohio and across the United States who were left out or left behind. During World War II, he earned a Silver Star for his bravery at Okinawa, and he never stopped serving his country—as a Congressman, where he helped enact historic legislation from the Voting Rights Act to Medicare and Medicaid, and then as governor of Ohio.
In addition to his many other accomplishments, Jack was the father of four extraordinary children, including our Secretary of Health and Human Services, Kathleen Sebelius. Kathleen followed in the high tradition of public service that Jack set, and they became the first father-daughter team of governors in American history. She always made her father proud, and I'm proud to have her on my team each and every day. Michelle and I extend our deepest condolences to Kathleen, the entire Gilligan family, and their many friends.
---
---
---
Stories with Recent Comments