Loading...





Wednesday, August 28, 2013




Former Browns fan favorite Josh Cribbs faces an uncertain future




Cribbs, who played quarterback at Kent State and special teams for the Browns, was cut this week by Oakland after lingering knee problems


by WKSU's AMANDA RABINOWITZ


Morning Edition Host
Amanda Rabinowitz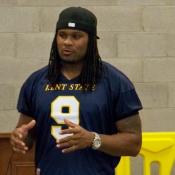 Josh Cribbs got his start as Kent State's quarterback and often returns to campus to speak to kids
Download (WKSU Only)
Former Cleveland Browns fan favorite Josh Cribbs is dealing with a reality that's common to many twenty-something NFL stars: Possibly having to find a new career. The Browns parted ways with the 29-year-old former Kent State star in the offseason following lingering knee problems…Now, the Oakland Raiders have just cut him. WKSU commentator Terry Pluto reflects on Cribbs' career, his love for Cleveland and what's next.
The Oakland Raiders cut Josh Cribbs this week during the team's first round of cuts. According to Yahoo.com's Brian McIntyre, Cribbs received $225,000 of a one-year, $1.25 million contract. He was due $865,000 in base salary in 2013, with $160,000 in per-game roster bonuses.

Terry Pluto says it shows his injury is serious. "The Raiders hate to cut a player and pay him any guaranteed money at all...so this tells me he way Josh Cribbs played must not have been good at all. I really feel for the guy."

Cribbs was not drafted in the NFL. In 2005, the Browns gave him a chance. They signed him for a $5,000 bonus and a chance to try out. "Phil Savage, the general manager at the time, said it was actually the biggest bonus they gave to an unsigned free agent," Pluto says.

NFL: 'Not For Long'
Pluto says Cribbs' seven years in the NFL are remarkable, even if his career is finished at age 29. "The average NFL career is 3 1/2 years. Cribbs played quarterback at Kent State where he was primarily a runner. So, he was probably was hit 200 times a season in college."

As primarily a kick returner for the Browns, Cribbs missed just two games in the last seven years. And his body took a beating playing that position. "They line everybody up, somebody kicks the ball and then you have 22 guys all running at each other like maniacs. This is not a way to have a long career."

Loved being a Brown
Pluto says nobody loved being a Cleveland Brown more than Josh Cribbs. "He was a great face in the community, fans liked the fact that he was sort of the underdog who made the team." And, his toughness was noted by his coaches. "Eric Mangini, who was the coach in 2010, said [Cribbs'] toes were almost curled in the last few games. His feet were getting smashed in by people and he just kept playing."

"Then, Pat Schurmer, his coach last year, said he hardly let Josh practice because that knee was so bad. But Sundays, he was just there."

A tough transition
Pluto says former NFL players face a tough transition into life after football. "Usually they don't save money. You're really not trained to do anything else." He says they often find themselves gambling. "They like the winning and losing and kind of the adrenalin. And that's why the divorce rate of former players in 5-10 years is like 70% and about half of them end up filing for bankruptcy."

Pluto says Cribbs may opt to have his knee operated on again with hopes of playing somewhere next year. He is tied for the most kickoff returns for touchdowns in NFL history.



Other options:

MP3 Download
(6:05)
---
Related WKSU Stories

Popular Cleveland Browns players are leaving rebuilding team
Wednesday, March 20, 2013

Cribbs says he wants to stay with Browns
Monday, June 22, 2009

Browns' Josh Cribbs: "I'm thirsty"
Monday, September 19, 2011

Sports figures have to start calculating the cost of a "tweet"
Wednesday, April 25, 2012

Kent retires Cribbs' number
Tuesday, October 12, 2010
---
---
---