Loading...


Government and Politics



Tuesday, August 27, 2013




National Democratic Party chief focusing resources in Northeast Ohio




Debbie Wasserman-Schultz was raising money in Youngstown, stumping for FitzGerald and Turner in Cleveland


by WKSU's KEVIN NIEDERMIER


Reporter
Kevin Niedermier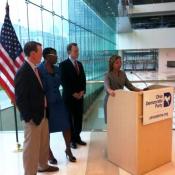 DNC Chairwoman Debbie Wasserman Schultz talks about efforts to win statewide races next year and beyond. She spoke at the Global Center for Health Innovation in Cleveland. Next to her are (L to R) Ohio Democratic Party Chairman Chris Redfern, state Sen. Nina Turner and Cuyahoga County Executive Ed FitzGerald.
Courtesy of Kevin Niedermier
Download (WKSU Only)
In The Region:
The head of the Democratic National Committee is spending time in Ohio to help get the state ready for next year's election and for the 2016 presidential race.

Florida Congresswoman Debbie Wasserman Schultz was in Cleveland today. She says the DNC is focusing nationwide on bolstering state Democratic parties, registering new voters -- especially Latinos and young people -- and on criticizing Republicans on voting rights issues and spending cuts for social programs.
"We are planting a flag in every region of this country. If you look at the last few election cycles, pundits would have consistently put states like Nevada, Colorado and Virginia out of reach for us. And because we were focused on expanding the map, and focused on doing some of the things I've talked about this morning, we were able to turn those states blue."
She appeared with Ohio gubernatorial candidate, Cuyahoga County Executive Ed FitzGerald. Wasserman Schultz slammed his opponent, Republican Gov. John Kasich on job creation, and on women's health issues including cuts to Planned Parenthood.

On Monday, Wasserman was at a fundraiser in Youngstown to benefit the Mahoning County and state Democratic parties.
---
---
---
Stories with Recent Comments