The first two animals on display at the park that is now the Akron Zoo in 1900 were grizzlies. Now they're back.

In fact, two cubs from Montana and two from Wyoming both arrived around the same time at the Cleveland Zoo about a year and a half ago. This summer, the Wyoming siblings, Jackson and Cheyenne, moved from Cleveland to Akron. The curator for mammals at the Akron Zoo, Eric Albers, says their mother was a nuisance bear in Wyoming and was killed by the Fish and Wildlife Service. The cubs were captured.
"These guys were young enough that they probably would not have survived on their own. They're probably about 2 ½ years old [now] and they're only about half as big as they're going to be. Jackson, the male, is about 320 pounds. He's easily going to get up to 600-800 pounds. Cheyenne, the female, may get up to 600 or so if you had to guess but she's only about 270-280 right now."
The grizzlies could live as long as 30 years in captivity, about twice as long as in the wild.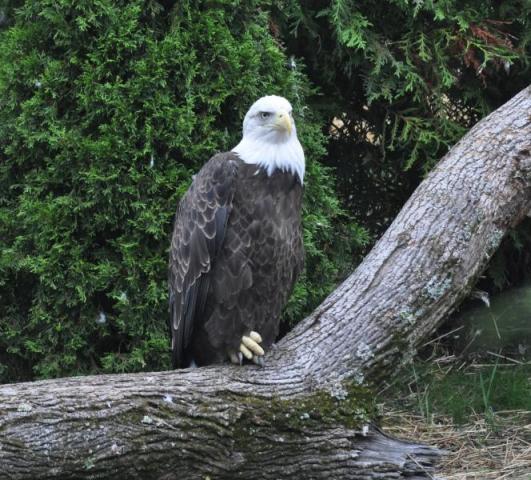 The Grizzly Ridge complex cost $12.8 to construct. Some of the buildings were modeled after the 19th century Mustil Store on the Ohio canal. And the bears den sits just about on the old Portage Path, a trail that the Indians used to carry their canoes from the Cuyahoga to the Tuscarawas rivers. Visitors have two places to watch the bears up close behind glass.
"The bears will come right up here and they're usually 2 inches away, through the glass."
Re-creating nature
The bears have a couple caves, a swimming pool, and several large tree trunks. Their area is built on a slope to keep it more interesting. And in a tactic that sounds a little like the "messing with Sasquatch" commercials, the zookeepers will move the bears inside for five minutes while they hide food around their yard.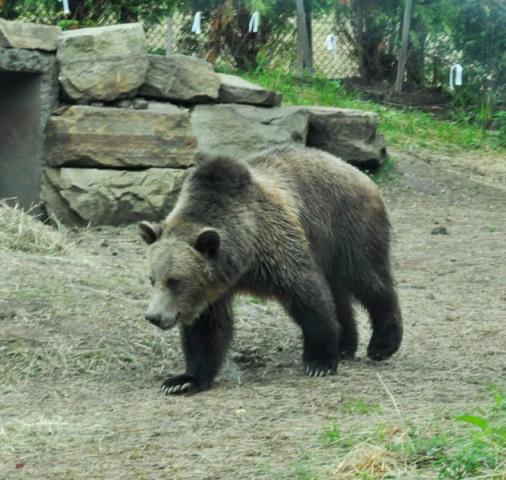 "They're natural foragers so they keep doing their natural activity. You always want to keep changing it up on them so they can stay interested and keep looking around and see what's going on."
Jackson and Cheyenne are weighed each week as they walk over a scale. In fact, they've been trained to come close enough that keepers can give them a close look-over without anesthetizing them. The bears' food is a mix of vegetables, meat and fish, and as the days get shorter, their appetites get bigger.
"When they came here they were eating about 4 pounds apiece [per day] with everything. Now, as bears will do this time of year, they start really packing on the pounds for winter and their diet has really started to increase. So they are probably getting about 6 pounds apiece now."
Grizzlies are territorial, and even though they are siblings and were raised together, Jackson and Cheyenne may at some point want to keep away from each other. Albers says the zoo has designed the facility to do that if necessary. Keeping these large bears is expense and the animals are dangerous but Albers says getting grizzlies was worth it.
"The best time to come up here was the first couple days we opened and to see the excitement and the big eyes of the kids. That did make it worth it."
And visitors seem to agree. Since the Grizzly Ridge complex opened, the zoo has been setting attendance records. Eight of the top 10 attendance days have come in the last month.