Loading...


Ohio



Wednesday, August 28, 2013




Ohio "Stand Your Ground" bill is getting pushback




Dayton introduces a resolution to opposevOhio House's proposed "Stand Your Ground" law




Story by

EMILY MCCORD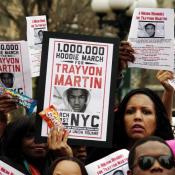 The Trayvon Martin case -- in which George Zimmerman was acquitted in part because of Florida's stand your ground law has triggered protests of moves toward similar laws in other states.
Courtesy of wikimedia
Download (WKSU Only)
In The Region:
The city of Dayton introduced a resolution today that opposes "Stand Your Ground" legislation being considered in the Ohio House.
From Ohio Public Radio station WYSO, Emily McCord reports that Dayton is the first city in the state to come out against the bill.

Right now, Ohio law says you have the right to defend yourself if you're in your home. But if you're outside, you have to retreat if a path is open.

If House Bill 203 is passed, it would allow you to fight back anywhere.

The city of Dayton passed a resolution Wednesday opposing this bill. Commissioner Nan Whaley says it won't help the city's initiative to reduce gun violence, and that citizens have raised concerns about the bill.

"A lot of the state legislation has a really direct effect on our community -- both as a city organization and then our community at large," she says. "We feel like we have a responsibility to communicate with the state Legislature on our positions that would affect our community and the people living in Dayton."

Advocates for the bill say it will make Ohioans safer by giving them the right to defend themselves. Dayton's resolution will be sent to state lawmakers.
---
---
Stories with Recent Comments