Loading...



From WKYC.COM / TV 3
Get the latest school closings and delays


Funding for WKSU is made possible in part through support from the following businesses and organizations.
---
For more information on how your company or organization can support WKSU, download the WKSU Media Kit.

(WKSU Media Kit


)
---

Environment



Thursday, August 29, 2013




Hardrock employee admits he dumped thousands of gallons of fracking waste




Charges against his boss and company are still pending


by WKSU's M.L. SCHULTZE


Web Editor
M.L. Schultze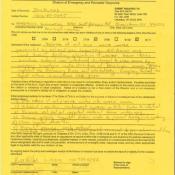 Original citation says state officials, acting on a tip, caught Hardrock dumping waste into the storm sewer. The owner, Ben Lup, denies criminal charges.
Download (WKSU Only)
In The Region:
An employee of a Youngstown businessman accused of dumping thousands of gallons of fracking waste into the Mahoning River has pleaded guilty to his role in the case. Thirty-four-year-old Michael Guesman of Cortland admitted in federal court today he repeatedly dumped the brine and oil-based drilling mud into a storm sewer that leads to the river. Guesman was working for Hardrock Excavating, which collected waste from oil and gas drillers in eastern Ohio. Federal prosecutors say his boss, Benjamin Lupo, ordered Guesman to start dumping the waste early last December and to do so only after dark when no one else is around. State officials acting on a tip investigated in late January, and Lupo and Guesman were both charged with violating the Clean Water Act. Lupo has pleaded not guilty. Hardrock shared facilities with D&L Energy in a complex about a mile away from the river
---
---