Loading...


Economy and Business



Thursday, August 29, 2013




Cleveland salt-mine operations are restarting after safety concerns




Cargill says a slight shift in a mine-shaft ceiling is not a hazard


by WKSU's KEVIN NIEDERMIER


Reporter
Kevin Niedermier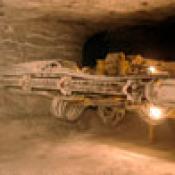 Salt mining operations at Cleveland's Cargill facility are restarting after safety concerns earlier this month.
Courtesy of Cargill
Download (WKSU Only)
In The Region:
The Cargill salt mine extending in Cleveland is going back into operation today after shutting down 10 days ago because of safety concerns.

Work was halted after monitors showed the roof in one section of the facility deep under Lake Erie had moved slightly and could collapse. But further studies indicate the mine is safe.

Cargill spokesman Mark Klein says the movement probably occurred naturally when a rock layer above the mine cracked and pushed down on the roof. That area will be filled with rock and other waste materials for reinforcement.

Klein says the restart will be a gradual process with 45 of the 100 workers going back into the mine today.
"Especially because people have been off for almost two weeks, we want everybody to get back into the groove of things, get things set up safely. We've got a great safety record here at the mine with millions of man hours without a lost-time accident. And we're optimistic that by next week we could have everybody back.'
The mine produces rock salt used in the winter to melt ice and snow. Klein says the facility has the capability to quickly make-up for the lost production if this winter is particularly harsh.
---
---
---
Stories with Recent Comments