South, to Strasburg
The cost of the investment prompted the
Lynn Drive-In
to try and win a digital projector. It's about half the size of the Aut-O-Rama, a field tucked off the main drag in Strasburg, 20 minutes south of Canton along I-77. It opened in 1937, and it's the second-oldest drive-in in the world.
Honda is sponsoring the
Project Drive-In Contest
, and will award one projector each to the five drive-ins getting the most votes. The Lynn is the only theater of any kind within a 25-mile radius. Co-owner Rich Reding says he'll still re-open next spring, whether the Lynn gets a second digital projector or not.
"We'll survive. We've been through the '80s, which were really tough on every drive-in when they came out with VCRs and people were just staying home. We're always on a budget, so we're used to living lean. Maybe we could make that parking lot into overflow parking for screen one."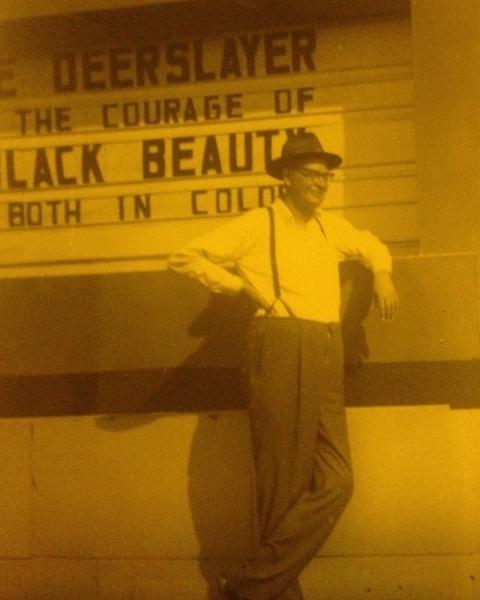 Family affair
The Lynn is Reding's main source of income. He doesn't have a day job or off-season gig. He just loves running the theater the way his father and grandfather did, and he proudly shows off snapshots from the past.
"This is my grandfather with the original marquee. That marquee lasted a long time. It just got hit by a truck in the early 90s. Let's see the date on here is… June of
'58."
Today, Reding can't tell how the Lynn is doing in the digital voting, but he's glad the contest has at least drawn attention to drive-ins throughout the country.
More first-timers
In recent weeks, new visitors have started popping up. Ed Bonnett says the experience hasn't changed since the 1960s, when he was a teenager, "except we used to park in the back."
He came to see "We're the Millers" on one screen, while sixth-grader Natasha Masters was facing the other way to see Disney's "Planes."
"It's nice and clean. The movies aren't all fuzzy and blurry. You actually get to sit outside and enjoy the time with your family instead of sitting inside."
The Lynn Drive-In is just two years younger than Shankweiler's near Allentown. In fact, Ohio and Pennsylvania have spent years swapping the crown of "State with the Most Drive-Ins" back-and-forth. More than a dozen Pennsylvania theaters are competing in Honda's Project Drive-In, but in Ohio, just five theaters are looking for a digital bundle-of-joy.