Loading...


Health and Medicine



Thursday, August 29, 2013




Recent NFL and player settlement designates $10 million for research and education




Dr. Jay Alberts believes focus should be on the dose of concussions




Story by

KELSEY LEYVA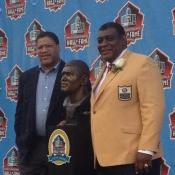 Dave Robinson, former Green Bay Packers linebacker and Pro Football Hall of Famer, has asked the NFL to look into health issues that may have resulted from on-field concussions.
Courtesy of Kabir Bhatia
Download (WKSU Only)
In The Region:
The $765 million settlement announced today between the NFL and some 4,000 former players allots $10 million for head-injury research and education. The Cleveland Clinic has been spearheading such research for much of the last decade. Dr. Jay Alberts is director of the Concussion Center at the Cleveland Clinic. He believes that research regarding how hard and how often athletes are hit should be an area of focus.
"I think this suit really highlights one of the areas that needs to be researched and that's what's the actual dose of impact to the head of individuals that might lead to these changes in cognitive functioning or motor functioning or possible neurological disease."

Alberts says the Clinic is developing an "intelligent mouthguard" that will measure how hard someone is hit and translate that information into an estimate of how much impact the brain is experiencing.
---
---
Stories with Recent Comments