Loading...


Courts and Crime



Thursday, September 5, 2013




Cleveland Councilman Zack Reed sentenced for third DUI




13-year council veteran could serve as few as 10 days behind bars


by WKSU's KABIR BHATIA


Reporter
Kabir Bhatia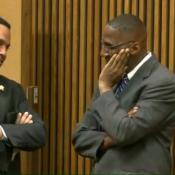 Zack Reed (right) was sentenced to mandatory drug and alcohol treatment, 2 years of probation, a 2-year license suspension, $1500 in fines, and 180 days in jail, although half of that is suspended and he could serve as few as 10 of the remaining days actually in jail
Courtesy of WKYC
Download (WKSU Only)
In The Region:
Cleveland Councilman Zack Reed has been sentenced for his third DUI. Along with a 15-hundred dollar fine, Reed gets 180 days in jail. But that does not mean he will spend the next six months behind bars. WKSU's Kabir Bhatia reports.
Zack Reed's jail time has broken down so that he could serve just 10 days actually in jail.

Judge Larry Allen suspended three months -- or half -- of the sentence.

The other 90 days includes 20 days in jail, or an equivalent of 10 in jail plus up to two months of monitoring.

The judge will decide later what happens with the remaining 70 days.

"The reason for that, Mr. Reed, is because you don't seem to respond when you don't have someone looking over your shoulder. So the 70 days is deferred but that will be set for a hearing in 60 days to make sure you comply with this court's orders."

Reed also faces two years of probation, mandatory drug and alcohol treatment and a two-year license suspension retroactive to March 5, when he was pulled over for running a red light. Police say he smelled of alcohol and had slurred speech. Reed says he refused a breathalyzer test because he believed Listerine mouthwash he had used would register a false positive. He also refused blood and urine tests.

Although he did not take the stand during his trial last month, he briefly addressed the judge during sentencing.

"I take full responsibility for that. I don't hold bitterness toward anyone. Not the police officers, not the jury, nor you. Those were my actions."Reed has served on council since 2000, but he could be kicked off if he misses 10 consecutive regularly scheduled meetings. Reed is facing three challengers in Cleveland's primary election Tuesday. He reports to jail on September 25.

Council President Martin Sweeney has called on Reed to resign, but senior councilman Mike Polensek says Reed needs to get help, and the residents of Ward 2 should decide his fate.
---
---
---
Stories with Recent Comments