Loading...



From WKYC.COM / TV 3
Get the latest school closings and delays


Funding for WKSU is made possible in part through support from the following businesses and organizations.
---
For more information on how your company or organization can support WKSU, download the WKSU Media Kit.

(WKSU Media Kit


)
---

Economy and Business



Saturday, September 7, 2013




Historic church could be sold to Cleveland Clinic




Transfiguration Church, built around 1901, reportedly sold after sitting vacant since 2011


by WKSU's KABIR BHATIA


Reporter
Kabir Bhatia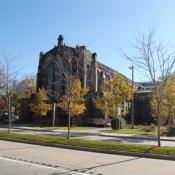 Transfiguration Church was listed for sale in 2012 at $1.9 million, but is currently listed at less than $1.5 million
Courtesy of LoopNet
Download (WKSU Only)
In The Region:
The Episcopal Diocese of Ohio may have found a buyer for an historic, but shuttered, church: The Cleveland Clinic.

The Church of the Transfiguration was built around 1901, but has been abandoned for two years. It sits just north of a Cleveland Clinic parking garage.

The Cleveland Landmarks Commission will hear a demolition request from the diocese at its meeting this Thursday.

No purchase price has been disclosed, but the building is listed online for about $1.5 million.

Local developers estimate repairs to the church could cost more than $6 million.

The Plain Dealer reports that neither side has commented on what would replace the church. The Cleveland Clinic recently closed its guesthouse a few blocks away, which is being replaced with a new medical building for Case Western Reserve University.
---
---