Loading...



From WKYC.COM / TV 3
Get the latest school closings and delays


Funding for WKSU is made possible in part through support from the following businesses and organizations.
---
For more information on how your company or organization can support WKSU, download the WKSU Media Kit.

(WKSU Media Kit


)
---

Courts and Crime



Saturday, September 7, 2013




Dispatcher disclipined for Amanda Berry 911 call




Letter says Jack Purdy should have stayed on the line with Berry as she escaped Ariel Castro's home


by WKSU's KABIR BHATIA


Reporter
Kabir Bhatia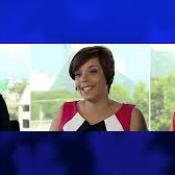 The reprimand letter for Jack Purdy says the dispatcher could have demonstrated more empathy and compassion during Amanda Berry's 911 call in May
Courtesy of WKSU
Download (WKSU Only)
In The Region:
The 911 dispatcher who took the 911 call from Amanda Berry as she fled from Ariel Castro's home has been disciplined for his conduct.

The Plain Dealer reports dispatcher Jack Purdy received a written reprimand for failing to stay on the line with Berry until officers arrived at the scene on May 6.

A letter from Purdy's commander also says the dispatcher could have demonstrated more empathy and compassion. The letter noted the call was handled efficiently and the commander expressed confidence Purdy would learn from his mistake.

A man who answered the phone at a listing for Jack Purdy in Cleveland declined to speak with a reporter Friday night.

Berry and two other women were kidnapped and held for nearly a decade by Ariel Castro, who hanged himself in prison this week, a month into his life sentence.
---
---