Loading...


Ohio



Monday, September 9, 2013




Democratic gubernatorial candidate says JobsOhio needs and overhaul




Ed FitzGerald says the jobs agency is too secretive for businesses to feel comfortable




by WKSU's ANDY CHOW



Reporter
Andy Chow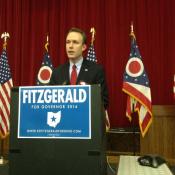 Ed FitzGerald is not saying JobsOhio needs to be disbanded, just revamped.
Courtesy of Andy Chow
Download (WKSU Only)
Democrat Ed FitzGerald -- who's running for governor -- unveiled a list of changes he'd like to see at JobsOhio if he wrests the governor's office away from John Kasich. The Cuyahoga County executive says the private job creation agency, which is funded with public money, should be more transparent and efficient. He wants to apply the state's open meetings and public records laws to the agency, as well as making it subject to public audits and revamped ethics rules. FitzGerald says the current JobsOhio system is not producing jobs at a great rate and he believes implementing the changes will boost productivity
"The truth is that when you have loans that make sense and grants that actually make sense, you're not secretive about them, you're happy to engage the public. I also think that it would create an environment where more businesses would actually be comfortable participating in the process because they don't think it's a secretive process where you have to know the right person in order to get consideration."
FitzGerald also would implement performance standards to measure JobsOhio's success. The agency is funded through a lease of Ohio's liquor profits, but run as a private nonprofit.
---
---
---
Stories with Recent Comments