Loading...



From WKYC.COM / TV 3
Get the latest school closings and delays


Funding for WKSU is made possible in part through support from the following businesses and organizations.
---
For more information on how your company or organization can support WKSU, download the WKSU Media Kit.

(WKSU Media Kit


)
---

Courts and Crime



Wednesday, September 11, 2013




Man who confessed to DUI on YouTube is expected to plead next week in man's death




His lawyers may ask for his bond to be extended so he can speak of the horrors of drunken driving




Story by

MANDY TRIMBLE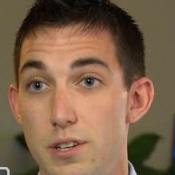 Matthew Cordle is preparing to plead guilty to vehicular homicide in a DUI case.
Download (WKSU Only)
The man who confessed on YouTube to killing someone in a car crash following a night of drinking was arraigned this afternoon and assigned a judge. WOSU's Mandie Trimble has this update.
Twenty-two-year-old Matthew Cordle is expected to plead guilty to felony vehicular homicide charges next Wednesday before Franklin County Common Pleas Judge David Fais.
In a procedural move during his first court appearance, Cordle pleaded not guilty. Judge Julie Lynch set his bond at $250,000.

Cordle's attorney, George Breitmayer, had hoped a judge could have heard his case today, but no one was available.

"Obviously it would've been nice to get everything done today and wrapped up," he said. "But the fact that we have a date certain that we can look forward to and know what he'd going to do on that date. I think that will bring Matt some sort of relief."

It's undecided whether Cordle will post bond. His attorneys earlier this week said he may ask for bond to continue to speak about the perils of drinking and driving.

In June, Cordle drove the wrong way on I-670 and has admitted he hit Vincent Canzani, 61, of Gahanna, in a head on collision. Investigators say Cordle's blood alcohol level was more than twice the legal limit. He faces two to eight-and-a-half years in prison.

http://www.today.com/news/man-who-admitted-dui-killing-youtube-i-hope-people-take-8C11118660
Page Options

Print this page

E-Mail this page / Send mp3

Share on Facebook
---
---
Stories with Recent Comments