Loading...


Economy and Business



Wednesday, September 11, 2013




Diesel engines make a comeback, thanks in large part to Ohio's Cruze




A sales increase of diesel purchased vehicles is making the engine a popular buy.




Story by

AKILAH PORTER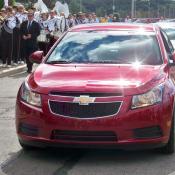 The Lordstown-built Chevy Cruze diesel is part of the increasing number of diesel vehicles sold in the US
Courtesy of Jeff St. Clair
Download (WKSU Only)
In The Region:
Diesel cars are making a comeback in America with a 41-percent sales increase over the last year for the energy-efficient engine. Bill Visnic, senior editor at Edmunds.com, says the perception of the diesel has changed. He says one reason is the quality of the engine has improved and is used in cars like the Chevy Cruze, which is made in Lordstown.
"What you got is the availability of a very refined, high-fuel quality economy diesel engine in an affordable car, in a really nice efficient package -- that the Cruze is with or without a diesel," Visnic said. "You put a diesel engine into that and now you get sort of hybrid-type fuel economy from a Cruze."
Visnic says the other factor causing the sales increase is that automakers are using diesel engines in luxury cars.
He says the diesel cars are good for people who have to make long commutes.
---
---
Stories with Recent Comments