Loading...


Education



Wednesday, September 11, 2013




Medina school board members are resigning




Last two board members who voted for a controversial superintendent's contract are leaving next year


by WKSU's KABIR BHATIA


Reporter
Kabir Bhatia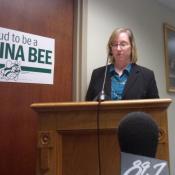 Medina school board President Karla Robinson will leave the board next May, following 15-year boardmember Susan Vlcek
Courtesy of M.L. Schultze
Download (WKSU Only)
In The Region:
The last two Medina school board members who voted for a controversial contract for Superintendent Randy Stepp are leaving next year.
The announcement from board President Karla Robinson and 15-year board member Susan Vlcek, was posted on the district website Wednesday. WKSU's Kabir Bhatia has more on the continuing upheaval in Medina.
The announcement comes amid the campaign for a 5.9-mill emergency levy on the November ballot.

The levy was pulled in May after the Medina Gazette revealed that the board had approved an $83,000 signing bonus for the superintendent, plus $250,000 for his college loans and tuition – at meetings that sidestepped the Ohio Sunshine laws.

The board says it didn't know how much it was paying. It suspended Stepp and called for a special audit, while he sued the school board.

Susan Vlcek says she hopes her time on the board was of service to the community, and her departure gives the community a chance to go forward with a new team in place.

"It's been a frustrating time. And we're involved with the legal proceedings. And we have an audit we don't have information on yet. And it's frustrating for the community."

Seven people are running for Medina school board -- two incumbents appointed after the contract mess, plus five first-timers.

Board President Karla Robinson has been a school board member for about two years. She became president after the resignation of Charles Freeman in March, just as the superintendent's contract came to light.

The district says it needs the levy to offset a looming $1.8 million budget hole. It would cost the owner of a $200,000 home about $34 a month.


---
---
---
Stories with Recent Comments