Loading...


Government and Politics



Monday, September 16, 2013




ODOT disagrees with safety problems identified in national bridge report




Ohio transportation officials say many of the bridges on the list have already been repaired


by WKSU's KEVIN NIEDERMIER


Reporter
Kevin Niedermier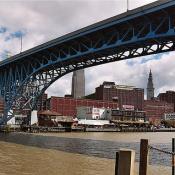 Cleveland's Main Avenue bridge. A nationwide bridge study says it's one of thousands that is potentially unsafe. ODOT disagrees.
Courtesy of Flickriver
Download (WKSU Only)
In The Region:
The Ohio Department of Transportation says the state's bridges are safe despite a recent report citing problems with thousands of bridges nationwide.

The study by the Associated Press and the National Bridge Inventory says nearly 8,000 U.S. bridges are structurally deficient and could collapse if a single, vital component failed.

The report says 421 Ohio bridges fall into that category.

But ODOT officials say nearly 40 of the bridges on the list have been repaired, replaced or closed. One is Cleveland's Main Avenue Bridge. It was closed to truck traffic for about six months last year after corroded rivets were discovered.

ODOT spokeswoman Amanda Lee says those original rivets on the 74-year- old structure were replaced, and more work is scheduled.
"A 2014 project is scheduled to upgrade the strength of currently adequate structural members to extend the life of the bridge," she says. "We're also going to replace the drainage system and patch portions of the concrete surface. We expect that project to take approximately two years."
ODOT says the state has spent nearly $7.4 billion on bridge maintenance and repairs over the last 10 years, and that work is ongoing. ODOT is responsible for 14,000 of Ohio's 44,000 bridges.
---
---
---
Stories with Recent Comments