Loading...


Courts and Crime



Monday, September 16, 2013




Ohio prison guards may have falsified log sheets in Slagle suicide




State investigation says most the guards on duty on death row that night were relief officers; Slagle killed himself three days before his scheduled execution




by WKSU's STATEHOUSE BUREAU CHIEF KAREN KASLER



Reporter
Karen Kasler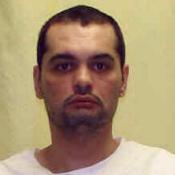 Billy Slagle hanged himself in his death row cell and a new state report says staffing was a problem.
Courtesy of Ohio Department of Rehabilitation and Corrections
Download (WKSU Only)
In The Region:
The investigation into the first of two high-profile suicides in Ohio's state prisons this summer says someone may have doctored the log books. Ohio Public Radio's Karen Kasler has more on the outcome of the investigation, which also finds fault with staffing.
The investigation from a team at the prisons department says records on a computerized log book may have been falsified on Aug. 4, the night Billy Slagle killed himself. He was on death row in the Chillicothe Correctional Institution,

Slagle hanged himself three days before his scheduled execution.

The report says one guard didn't make the rounds every half hour as he was supposed to, and that he and another guard may have changed the records to show he did. The guards are on paid leave and will not face charges from the Highway Patrol. But the report says they could be disciplined or fired.

The report says nearly three quarters of the officers on duty that night were relief officers, who don't have the same training that regular-duty officers do. It also suggests the lighting at night is too low to monitor inmates and notes that there are problems with inmates putting up paper and other items to block windows.

The investigation into the second suicide – that of rapist and kidnapper Ariel Castro – a few weeks after Slagle's is not yet complete.
---
---
---
Stories with Recent Comments