Loading...


Economy and Business



Wednesday, September 18, 2013




Canton fire may have been caused by crews scraping sulfur




Fire chief says sulfur, which can self-ignite, may have been a cause of Monday's blaze that cause thousands to be evacuated


by WKSU's KABIR BHATIA


Reporter
Kabir Bhatia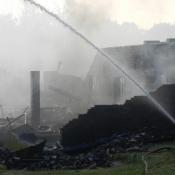 Water helped turn burning sulfur into sulfur dioxide, which lead to a mass evacuation of Canton's northeast side on Monday
Courtesy of M.L. Schultze
Download (WKSU Only)
In The Region:
The investigation continues into Monday's fire at an abandoned Canton plastics factory which caused thousands to be evacuated from the city's northeast side. Canton Fire Division Chief John Whitlatch says salvage crews were inside the building Monday scraping sulfur, which can self-ignite, which could have led to the fire. Fire crews returned to the former Convoy Container Company this morning.
"We had some flare ups and some hot-spots. We just completed cleaning up those this morning. We're still in the early stages of determining anything at this point. It's going to take us a while to sift through the debris and come up with an accurate cause."

Whitlatch says Convoy Container closed two years ago, but other tenants were renting space in the now-destroyed building. Canton continues its investigation into who owns the factory and why vats of chemicals were left behind.
Channel 5 reports that the plant was cited for health and safety violations in 2010.
---
---
---
Stories with Recent Comments