Loading...


Economy and Business



Wednesday, September 18, 2013




Cleveland Clinic in cost cutting mode




Changes brought on by the new healthcare law are forcing hospitals across the country to cut costs, like the Cleveland Clinic's cutting of 3,000 jobs.


by WKSU's JEFF ST. CLAIR


Reporter / Host
Jeff St. Clair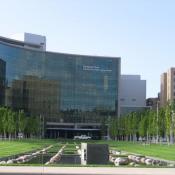 The Cleveland Clinic is one of Ohio's largest employers with more than 39,000 employees. New cost cutting measures will reduce that workforce by 3,000 through early retirement and not filling vacant positions. The cuts are in response to efficiences required by the new healthcare law.
Courtesy of Karen Schaeffer
Download (WKSU Only)
In The Region:
The region's largest employer is tightening its belt through staff reductions and other cost cutting measures. WKSU's Jeff St.Clair reports the Cleveland Clinic is bracing for changes brought on by the new federal healthcare law.
More than 39,000 Ohioans work at the Cleveland Clinic. That workforce will shrink as the Clinic offers early retirement to more than 3,000 eligible administrative and clinical staffers this fall. Some vacant positions will also remain unfilled.

Clinic spokeswoman Eileen Sheil [sheel] says penny pinching is even reaching into the OR as part of a $330 million belt tightening effort.

"For example in the operating room we've posted what it costs for a suture, so before you open up a package of a suture make sure you really need it."

Sheil says the Clinic's belt tightening is part of a national trend. She says hospital systems need to trim costs ahead of the new payment models that are part of the Affordable Care Act.

"Health care reform is really changing rapidly the healthcare industry and going forward we know that the burden of the cost of healthcare is really going to fall more and more on the patient, so hospitals are looking to drive efficiencies [and] reduce costs."

Sheil says more staff reductions could be on the way next year. The new healthcare law goes into effect January 1st.
---
---
---
Stories with Recent Comments