Democratic State Rep.Kathleen Clyde says the new anti-abortion and family-planning laws never got the formal hearing they deserved.
"This is the first time women's health experts and advocates will be able to weigh in on some of the harmful provisions," Clyde said.
So Clyde and a handful of Democrats sat and listened in a Statehouse hearing room as doctors, lawyers and others testified. But one group that championed these new laws did not.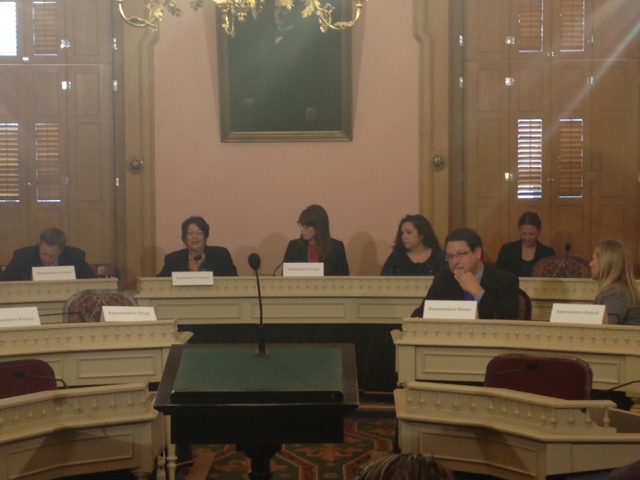 "We think it's the height of hypocrisy," said Mike Gonadakis, president of Ohio Right to Life.
"We had Statehouse pro-choice Democrats holding a public hearing today in a public building and they refused to let Ohio Right to Life testify on the bill. They claimed they wanted to have hearings on all sides of the bill yet when we showed up, they confiscated our documents and they barred us from speaking."
Pulling the plug
But the Democrats say they are the ones who have been prevented from speaking out on the issue. Clyde says the new testimony was supposed to be shown on the Ohio Channel, the government channel that televises many lawmakers' events.
"Apparently it was the House Republicans ordering the Ohio Channel to abandon the public coverage of the event," Clyde said. "That's the information I received. The cameras were there and as we were starting our hearing, they were yanked out."

Press conference or hearing?
But Mike Dittoe of the Ohio House Republicans says Clyde and Democrats are lying. He says it was government television officials who decided to pull the cameras.
"It was determined by them to be a committee hearing and not a press conference," Dittoe said. "They made the decision to pull the cameras and we believe rightly so. Now if the Democrats were holding a typical press conference, there would be absolutely no problem with what they were doing today."
Dan Shellenberger heads Ohio Government Telecommunications insisted, "The legislature sets the rules."

And the rules, he added, say we cannot cover official meetings, committee hearings and such -- and this was advertised as a hearing."
But Democrats say it was clear this was not an official hearing but was instead an opportunity to allow voices to be heard that weren't heard when the Legislature was in session.

While the Democrats in a news release referred to the event as a hearing, there was no formal notification from the Ohio House as there is with official hearings.

There was a plaque outside the door describing the event inside the room. It had two words written on it: "Press conference."
.