Loading...


Courts and Crime



Thursday, September 19, 2013




Cleveland's Mt. Pleasant neighborhood getting $1 million to fight crime




Grant from Justice Department will come in installments over the next 3 years


by WKSU's KABIR BHATIA


Reporter
Kabir Bhatia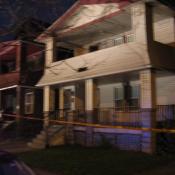 The home on Imperial Ave. where 11 victims of Anthony Sowell were found in 2009; it's just a few blocks north of Kinsman, the main drag through Mt. Pleasant
Courtesy of Kevin Niedermier
Download (WKSU Only)
In The Region:
The neighborhood where Anthony Sowell lived has gotten a $1 million grant to fight crime. WKSU's Kabir Bhatia reports.
Cleveland is one of just five cities getting the money from the Justice Department. Spokesman Mike Tobin says the funds will target the southeast-side Mt. Pleasant neighborhood, where crime-fighting efforts are already underway.

"We demonstrated that federal agents and local police and the city and community leaders have a strong track record of working together. Another reason is that there's a need for it. Poverty is high in that neighborhood, as is crime. And we're hoping this will start to turn that around a little bit."

The Byrne Criminal Justice Innovation grant will fund initiatives for gun control, improved street lighting and demolishing abandoned buildings. It will also help expand Operation Night Light, in which police make surprise visits to parolees. Tobin adds that a surrender program for non-violent fugitives could begin in 2014.
---
---
---
Stories with Recent Comments