Ever since the housing collapse and Great Recession that followed, economists have been trying to figure out how to prevent another one. The summit's attendees are largely researchers, so they don't expect simple answers, merely data that points to more research.

But the president of the Cleveland Federal Reserve Bank, Sandra Pianalto, asked for creativity, innovation and collaboration.

Choices don't always work out as expected
She pointed out that some conventional thinking has proven to be wrong, including the idea that giving housing vouchers to poor people would allow them to move to better neighborhoods.
"Families who use vouchers often do not experience a better quality of life.Too frequently they cannot find or they do not select apartments in neighborhoods with better schools or places where the job prospects might be better."
Several of the regulators who spoke expressed a fear of creating unintended consequences that could hurt the industry, consumers and the broader economy.

Nadine Ballard, who worked for the Ohio Attorney General's Office, recounted the fear of unintended consequences in shutting down pay-day lenders, largely considered predatory lenders.
"That was our No.1 concern, 'What is the alternative? If this happens, can consumers really still function and is there an alternative in Ohio?' Wright Patterson Credit Union had a stretch-pay program. Then it became an education function to let consumers understand that they had a right to join a credit union."
Information is power
One answer from regulators was to insist that finance companies must disclose more information to customers. Professor Jon Zinman of Dartmouth University says one test of that had advisers admitting to customers that they might profit even if the customer's investment fails. That plan backfired.
"The advisors felt they ... had a moral license --they had less of an ethical constraint – so they felt (better) about giving more biased advice because they had told their clients about their incentives."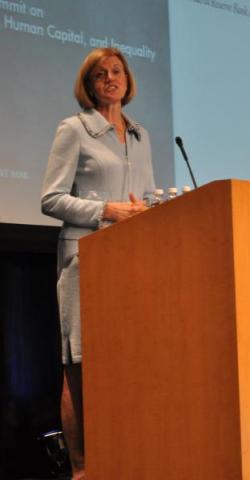 What's more, because of the disclosure, customers trusted the lenders even more.

A steep climb
It's an uphill battle when lenders offer flashier advertisements. George Washington University Professor Vanessa Perry cited another study that compared home buyers who were looking at homes and mortgages, with a control group who were told just to shop for a mortgage. The first group ended up focusing more on the house and less on the details of the mortgage.
"In every case, the people who had just finished shopping for the house were more likely to choose the higher risk option. ... and they were also less likely to seek additional information."
The word that economists kept using this week in relation to consumers or regulations was "context." That's a subject of research by Princeton behavioral economist Eldar Shafir.

The empathy gap
Shafir's new book, "Scarcity," explores the habit of poor people to make bad choices. He likens thinking to bandwidth. If you're under financial stress, you simply have less bandwidth in your brain to think about long-term consequences.
"Taking the pay-day loan is a very effective way to make sure I don't get evicted. That's what I'm focusing on now."
Shafir cited numerous studies using smart people, including Princeton students, who were under temporary financial stress, and their IQ-performance dropped. Relieve the stress and it bounced back. But given that the House voted Thursday to cut back food stamps, Shafir says the country is now suffering from an empathy gap.
"The assumption is that (the poor) are just not being responsible, that if you give them help, you induce worse behavior. The fact that there are very clear studies that welfare recipients spend more than 90 percent of their money very, very wisely and less than 10 percent on 'irresponsible' things like toys for their kids – no one looks at that."
At the beginning of the conference, Sandra Pianalto called for the financial industry, government and consumers to be flexible in hopes of reaching a consensus on policies that might benefit everyone.