Recently Gov. John Kasich stopped by to announce the state would fund the Opportunity Corridor project on the city's east side. Add that to the I-90 bridge and money already spent on the Shoreway and it's $800 million. So Mayor Frank Jackson welcomed the governor back.
"He's been up here quite a bit and every time he comes, it's good news for Cleveland," said Jackson.
Leveraging the Ohio Turnpike for bond sales has allowed funding for such projects.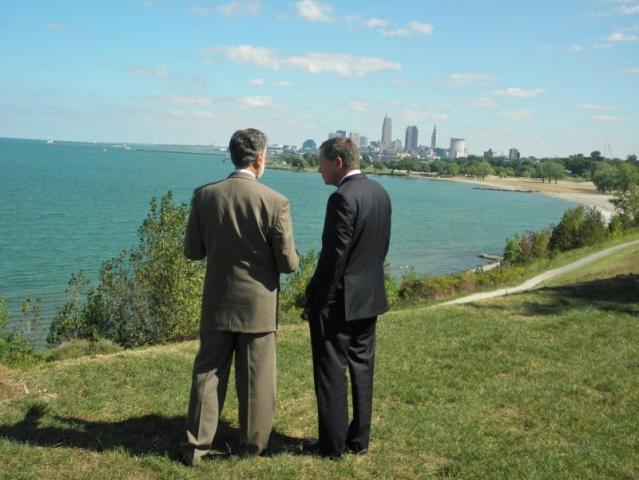 "I've got some other news for you, Mayor, and that is with the completion of your project. You've already put $4 million into this project; you expect to put another $3 million in. Keep it in your pocket, Mayor. You don't need to spend it."
Plans for the West Shoreway would slow it down from a freeway to a boulevard. Standing on a bluff overlooking Edgewater Park, Councilman Matt Zone says it also provides more access to the lakeshore.
"See that tall smokestack over there with Battery Park on there? (With out the project), you wouldn't have a developer like Chip Marous and his family invest over $100 million to take an old brownfield site and turn it into residential housing. You wouldn't have the creation of Gordon Square arts district -- because everything that we did in the Gordon Square arts district was predicated upon the access to the lakefront."
The final phase of the shoreway project will start next year.