Loading...


Government and Politics



Thursday, September 26, 2013




Ohio's senators disagree on defunding the Affordable Care Act




Although they disagree on Obamacare, neither Democrat Sherrod Brown nor Republican Rob Portman want to see a government shutdown




Story by

KABIR BHATIA AND KELSEY LEVYA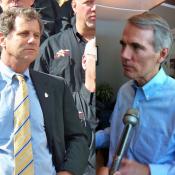 Democratic Sen. Sherrod Brown and Republican Sen. Rob Portman don't want to see a government shutdown, but have differing views when it comes to funding Obamacare.
Courtesy of WKSU
Download (WKSU Only)
In The Region:
Both of Ohio's U.S. senators are sticking with their parties' polarized positions when it comes to making decisions regarding the Affordable Care Act and the nation's finances.

Starting next Tuesday, uninsured Ohioans will be able to sign up for health insurance under Obamacare.

Ohio's Republican U.S. Sen. Rob Portman is among those who want to defund the program.

"I hope there are enough Democratic senators listening to their constituents [who] will use this opportunity to reverse a policy that's driving up costs in Ohio, hurting working families, forcing a bunch of Ohioans to lose their doctors [and] others to lose their jobs. I think it's bad economic policy. I think it's bad healthcare policy."

Portman says he will continue to fight to defund, repeal and replace Obamacare, but he does not want to see a government shutdown.

Democratic Sen. Sherrod Brown is on the other side of the debate and doesn't want to see Obamacare be defunded, but agrees that a government shutdown would have negative consequences.

"I'm hopeful that this gets fixed [and] that people come to their senses. Many people I know in the business community are afraid of this(shutdown) because of what it would do to our credit rating -- both in closing the government down, paying our bills, and what it would do to the U.S. economy and ... internationally."

To keep federal agencies open Tuesday, both the House and the Senate must agree on a funding plan by midnight Monday.
---
---
Stories with Recent Comments