Loading...


Ohio



Thursday, September 26, 2013




Lordstown GM plant marks three years of Cruze-ing




The compact car revitalized the local auto industry, adding 3,000 jobs


by WKSU's KABIR BHATIA


Reporter
Kabir Bhatia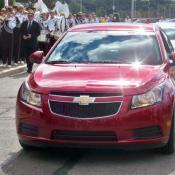 GM continues investing in the Lordstown plant, built in 1966 for production of the full-size Chevy Impala-Bel Air-Caprice line.
Courtesy of JEFF ST. CLAIR
Download (WKSU Only)
In The Region:
GM is celebrating a milestone today, with the third birthday of the car that revitalized the Lordstown assembly plant near Youngstown. Production of the Chevy Cruze has added more than 3,000 jobs to the plant, and GM invested $5.5 million to add production of a Turbo-Diesel version of the compact car this spring.

Chevy spokeswoman Cristi Landy says dealers came away from the celebration impressed by the diesel engine.

"The Cruze has done very well for us – the regular gas version. They know the success they've had with the Cruze. It's a high-volume seller and they're very excited to see the diesel vehicle come into the market."

The European-sourced engine has gotten high marks in the automotive press, and is the first GM diesel engine since 1986. Diesel sales in general are up 41 percent in the U.S. this year.

UAW officials say the Lordstown plant has been running at capacity this year, and a scheduled week off had to be scrapped to meet demand.

GM says the Cruze has sold about 2 million units since 2010, when the mostly idle plant got a $350 million makeover.
---
---
---
Stories with Recent Comments