Loading...


Health and Medicine



Friday, September 27, 2013




Akron marathon runner returns after near-death experience last year




Tony Lindeman now touts the benefits of CPR training


by WKSU's KABIR BHATIA


Reporter
Kabir Bhatia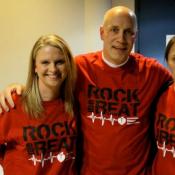 Heather Pariso, Tony Lindeman and Lynne Trenkelbach have traveled throughout northeast Ohio raising awareness of CPR after Tony's near-death experience during the 2012 Akron Marathon
Courtesy of Heather Pariso
Download (WKSU Only)
In The Region:
The Rubber City is preparing for the 11th Annual Akron Marathon, which starts tomorrow morning at 7 a.m.
One relay team consists of four nurses, and a councilman. That's not the beginning of an old joke – it's actually a tribute to Doylestown Councilman Tony Lindeman, who collapsed during last year's marathon. Doctors still don't know why the 47-year-old's heart stopped a few minutes after he left the starting line, but they credit CPR with saving his life. Lindeman has been working since then to raise awareness of CPR.

"People do not know how to do CPR. If they do know it, it may be some training they received years ago. And they aren't sure what they learned is what they should be doing today. So they may be a little more reluctant to get involved when they see someone go down."

Lindeman will run the fifth and final leg of the relay tomorrow. His team includes nurses Lynne Trenkelbach and Heather Pariso. Both were running near Lindeman last year when they saw him collapse, and they performed CPR and chest compressions until an ambulance arrived.

A map of road closures related to the marathon is here.
---
---
---
Stories with Recent Comments