Mark Masuoka wants people to get over being intimidated by art museums and the hushed tones and do-not-touch signs common to the galleries. In his first annual Akron Art Museum members meeting, he talked about blending more with the surrounding community.
One way museums have been doing that is with slick gift shops and cafes. The Cleveland Museum of Art has gone all in with a white tablecloth restaurant as well as a casual café. Akron's big 2007 expansion included a café but the operators were unable to make a profit and closed.
Now the museum is opening a new one it's calling the i-Q Café. The name comes from the Claes Oldenburg sculpture in the lobby which is called the Inverted Q.

The art museum has assembled a number of area companies to supply it: beer from Thirsty Dog, croissants from the Blue Door Café, coffee from Bent Tree Coffee Roasters and food from Urban Eats.

Another draw, says Masuoka, is that on Thursdays the museum will waive its $7 admission and stay open late.
"We felt if we were really going to develop an audience that appreciated what we were doing at the museum, we needed to find a special moment for people to be able to come here free of charge and really experience the museum in a great way."
The museum is also preparing to build the new Bruce and Suzanne Rogers Sculpture Garden and the planning has begun.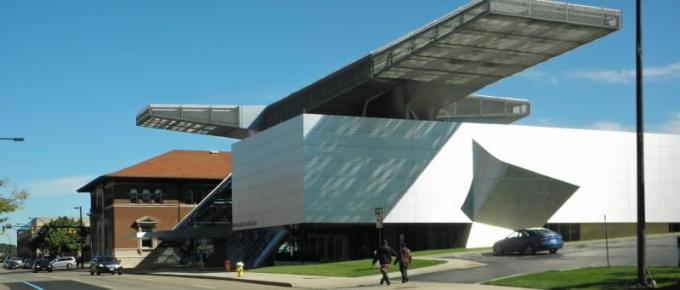 "Over the next year, I'm launching a new component on Thursdays that is basically a town-hall forum. And the topics will change periodically but the first few topics will be about discussing the museum, the sculpture space and the sculpture garden and what ... it means when the Akron Art Museum can develop a public space in downtown Akron."
Masuoka isn't giving a time line for the Rogers sculpture garden, saying he wants to make sure they get it right. It will be built on the parking lot where the Downtown@Dusk concerts are now held.