Loading...



From WKYC.COM / TV 3
Get the latest school closings and delays


Funding for WKSU is made possible in part through support from the following businesses and organizations.
---
For more information on how your company or organization can support WKSU, download the WKSU Media Kit.

(WKSU Media Kit


)
---

Sports



Saturday, September 28, 2013




UPDATE: New Akron marathon and half-marathon records are set




Olympic trials are one goal for the Akron Marathon


by WKSU's M.L. SCHULTZE


and

KABIR BHATIA



Web Editor
M.L. Schultze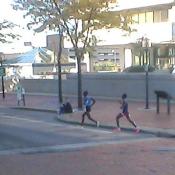 Lead Marathon runners entering the final stretch in front of WKSU's downtown Akron studios.
Download (WKSU Only)
In The Region:
UPDATE: The new record-holder for the Akron Marathon is Getachew Asfaw from Silver Spring, Md., with a time of 2:16. Jessica Odorcic set a record in winning the half-marathon in Akron this morning. The 32-year-old mother from Lake County also has qualified for the Olympic marathon trials. The overall half-marathon record this morning was set by Canton native Ryan Kienzle, who also is vying for an Olympic trial. His time was 1 hour, 5 minutes and 49 seconds. Some 17,000 runners are participating in the marathon along with 3,000 volunteers.
---
---