Loading...


Courts and Crime



Tuesday, October 1, 2013




City says portable red-light cameras increase safety, but what do Clevelanders say?




Cleveland installs five new portable traffic cameras, and aims to get 10 more units that can be quickly moved around to issue $100 tickets


by WKSU's KABIR BHATIA


Reporter
Kabir Bhatia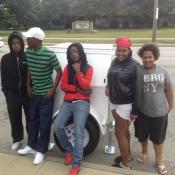 Booty Benson (second from right) and Shermaine Wagner (center) think the camera on East 55th Street might help deter speeding and other crimes; Booty is hoping it leads the city to permanently install a light near her apartment, across the street from East Tech High School.
Courtesy of K. Bhatia
Download (WKSU Only)
In The Region:
Cleveland has five new portable traffic-enforcement cameras, which can detect speeders and issue tickets far faster and cheaper than a patrol officer. The city says it will make drivers and pedestrians safer. WKSU's Kabir Bhatia reports on how neighborhoods are reacting to the new enforcers on their block.
The cameras – about 5 feet tall, industrial white, with a trailer hitch and single, beefy wheel -- look like folded-up, mini camping trailers. They monitor traffic within 20 feet, snapping photos of anyone going 11 or more mph over the speed limit. Three of the five are on relatively quiet stretches of main thoroughfares.

The one at St. Clair and East 23rd is in front of a sparkling-new Firefighters' Credit Union building, surrounded by seemingly abandoned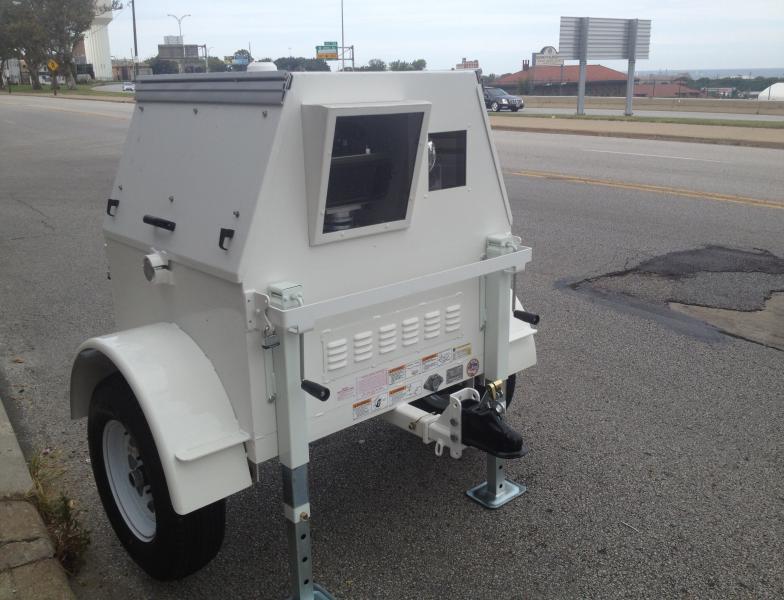 buildings. Five minutes away on Superior, the camera is across from two churches, and in front of Case Elementary School. Much of the road is blocked off for construction. But Carol Martin says she doesn't have much trouble crossing the street or avoiding speeders, and questions why the city put a camera there.

"They're thirsty; they just need money. I don't think there's too much going on right in here. Probably should have put it in the areas where it's really needed. I've been over here for 20 years. Real quiet."

Still, she does think the cameras will probably deter speeders wherever they're placed.

On the west side
A few blocks from popular restaurant The Harp, a camera sits quietly on Detroit Avenue, monitoring two lanes of eastbound traffic. The cameras can only enforce in one direction, which means the opposite two lanes here, plus the numerous lanes of the Shoreway that run parallel, are free from the electronic net – for now.

Paul Kratz lives nearby and says speed enforcement can't hurt. And the potential to capture other crimes with the camera is reassuring but probably not necessary.

"It's not real bad crime. Once in a while you hear about somebody getting beat up or something like that. [On this strip of road], I hadn't heard about any crime."

Down the block, John Banks Jr. is at work and -- when it comes to crime – he agrees.

"It's been pretty good around here. You might get a little bit at night, but that's everywhere."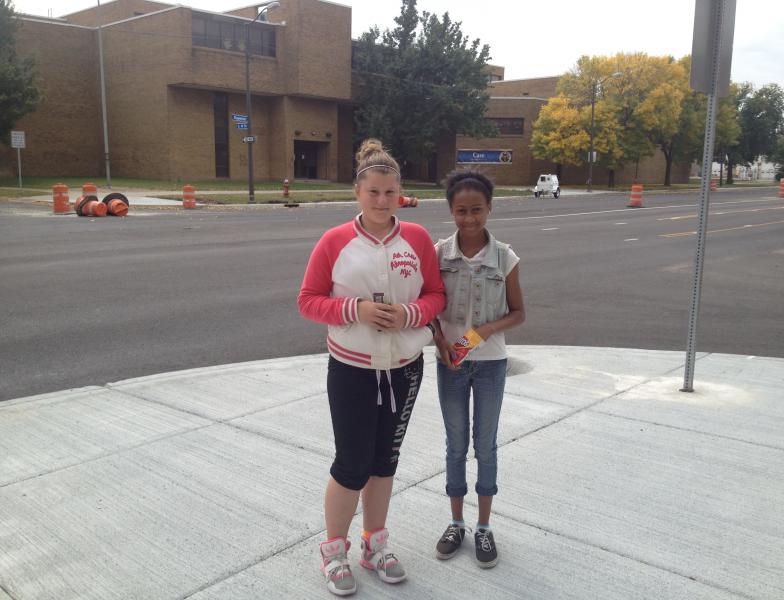 The camera is in front of an empty building, which is next to an abandoned building.

And on East 55th...
This busy, major artery already has several permanent traffic cameras installed. The new portable unit is in front of Booty Benson's apartment, directly across from East Tech High School.

"Nah, they ain't really slowed down. My nephew, he has a habit of running out the door and running toward the street. They'll be out here playing and running back and forth across this street. People, in a 30, will be doing 60."

This is one of the main routes to get from I-77 to University Circle or the Cleveland Clinic. But living in this neighborhood means living with high crime, according to Shermaine Wagner. She's hopeful that the threat of an on-camera appearance will help drive down incidents a bit.

"This is 55th. This is down-in-the-way Cleveland, not a safe neighborhood. ... You can't cash you're check at [a] store, because you're gonna get robbed [when you leave]."

Follow the money
The city says the portable cameras save about a half-million dollars a year versus a police officer issuing the tickets. The cameras can be
carted around, and the plan is to move them as often as every three days. The city might want to check on the East 55th unit more often, because it's already been defaced by magic marker graffiti, to the delight of Booty Benson.

"You see they graffiti'd on the side of it, right? 'CPG. 7G. Big E. Three Kings.' Big E, that's who did it!"

That message is nothing rude, unlike the message scrawled on the camera outside the Firefighters' Credit Union, which is highly critical of a machine that can spit out $100 tickets.

The city says there is a 10-day review process for citations before they are actually mailed out.

Cleveland has a sixth camera ready-to-go. It was removed last week from a heavily wooded area that hampered its effectiveness. Cleveland eventually plans to have a total of 15 portable cameras on the streets.
---
---
---
Stories with Recent Comments