With an inning to go in the regular season and the Indians sitting on a 5-1 lead over Minnesota, David Binkley of Canton stopped into the Indians Team Shop off Interstate 77 to pick up an anniversary present.
"I'm going to be in Niagara Falls with my wife Wednesday and then I'm going to surprise her on the way back with tickets to the game."
He picked out two of the few remaining seats – a pair of 500 upper-deck seats that have rarely been used all season. Binkley himself was in Alaska working for an oil company all summer, so this will be his first close look at the team he's followed since he was a toddler.
Not the same-old-same-old Tribe
Denise Spindell stopped into the shop to pick up T-shirts, not tickets. She's been to a few games this season, and started out cautiously.
"I was hoping that we would have a winning season, but I thought it was just going to be the same-old-same-old, same old Indians. Maybe next year. "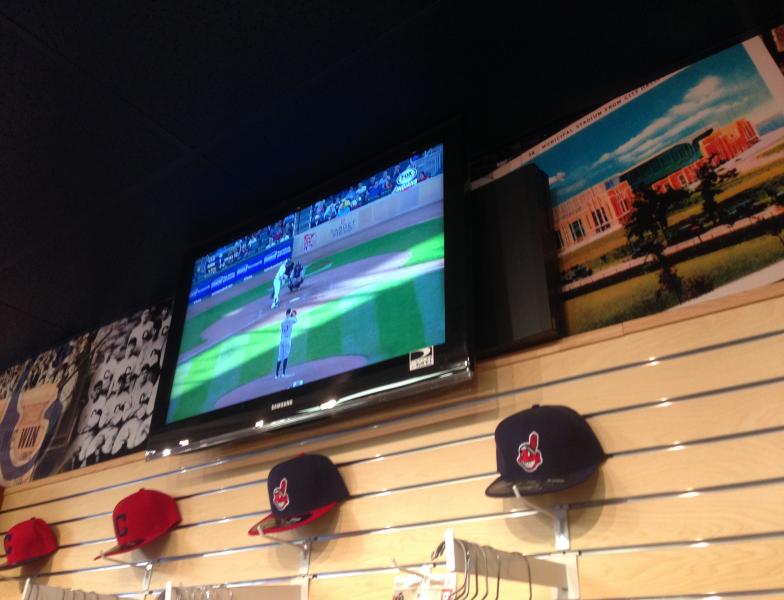 That changed in when she went to a game in August.
"I started thinking OK, these guys are starting to come together and we really liked what we saw so I thought maybe there's an outside chance for the wild card."
Francona gets Northeast Ohio
Doug Pugh of North Canton made it to one regular-season game this year.
He's resisted getting his hopes up. "Being an Indians and a Browns fan all my life, we're used to disappointment. But whenever they're not disappointing us, we get excited."
He compliments Indians first-year manager Terry Francona for understanding why Cleveland fans have been a bit skeptical.
"And I think that's why that one night they only had 9,000 fans, and Terry came on … and he didn't really say anything about the fans and get mad. He just knows they've been disappointed, and he's just happy for any support he can get at all."
Francona does seem to understand Cleveland.
His father, Tito, was playing for the Indians when Terry Francona was born and he spent his first six years here. The younger Francona signed as a free agent with Cleveland in 1988 – in the dog years before the Tribe turned it around in the 1990s. And Terry Francona was manager of Boston in 2007, when the Red Sox roared back from a 3-1 deficit in the American League Championship Series to beat … the Indians.
Regardless, enjoy the week to come
Still, some Indians fans are starting to murmur words like "destiny."
Chris Ricca of Westlake was leaving a Browns game – having just watched the Browns pull to an even .500 on their young season, and was celebrating the Indians win as well.
"I have a feeling this is their year. They're the underdogs and much like the Browns, they're going to surprise everybody."
And even if it doesn't stretch too far into the fall, he says: "This week's going to be fantastic with the playoff game and (then) the Bills game on Thursday and the spotlight's going to be on Cleveland. We're ready to go."
Meanwhile, fans were starting tentative enquires into the availability of tickets for the American League Division Series and even the AL Championship Series, though they also asked about refunds if the team doesn't get that far.