Loading...


Ohio



Tuesday, October 1, 2013




Ohio's Brown and Johnson pledge their congressional pay to charities




Congressional salaries are listed as mandatory


by WKSU's M.L. SCHULTZE


Web Editor
M.L. Schultze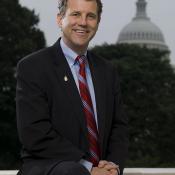 Sherrod Brown gave his salary to charities during the shut down of 1995 and pledges to do so again.
Courtesy of U.S. Senate
Download (WKSU Only)
In The Region:
Members of Congress will continue to get paid during the government shut down because salaries of senators and House members come from mandatory funds. But at least two of Ohio's delegation are turning down their paychecks. Democratic U.S. Sen. Sherrod Brown says he will donate his salary to the Honor Flight Network, a charity that flies World War II and other veterans to visit the memorials in Washington. Brown was in the U.S. House 17 years ago, the last time the government shut down. He also gave his salary to charities then. According to the Washington Post, U.S. Rep. Bill Johnson, whose district extends from Youngstown along the Ohio River to the bottom of the state, also is giving up his pay.
---
---
---
Stories with Recent Comments