When Chelsea Roberts was deciding where to send her son to high school, she did her homework. For her, the most important thing was finding a school where her son would succeed.
"I don't ever want to set my baby up to fail. Ever. If that means that I have to go to a different school, move to a different district, then that's what I'll do," Roberts said.
That meant looking at high school test scores. And at the magnet school where her son ended up, she liked what she saw on the Ohio Department of Education website.
"Long story short, their math scores were astronomical, reading was phenomenal. Everything was on the rise. Everything was on progression and not regression," Roberts said.
So what else matters?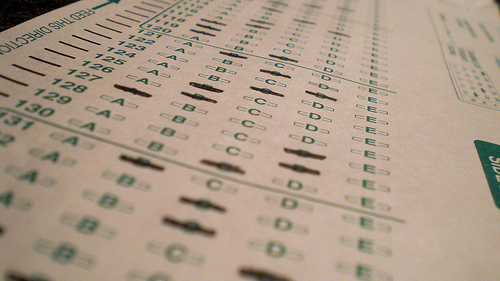 But for her younger children, her school-selection process was different. She did not put academics on the backburner, but she did want her children to be safe and nurtured and cared for.
"I wanted them to know, 'Yes you will learn, but yes you are loved,'" she said.
That's the kind of information you won't find on the state report cards the Ohio Department of Education puts out.
When StateImpact asked parents across Ohio what information they would use to evaluate local schools, they mentioned things like whether children are happy at school, if they feel safe, and if they feel like teachers care about them. They talked about academics too, but they also wanted to know if the schools prepare their kids to go to college or get good jobs.
But these areas that parents told us are important are not the things that policymakers in Columbus grade schools on.
Way too complicated and no one understands
I asked Aaron Pallas, a professor of sociology and education at Columbia University's Teachers College, about the difference between how parents grade schools and how the state grades schools.
"Most parents want a school setting for their children that will allow children to grow and develop in all the ways that we think might be important. And over the past two decades, I think policymakers have become increasingly concerned with a more narrow concept of what schooling is about," Pallas said.
That basically means focusing on whether students can read, write and do math. Pallas says that's partly a result of the No Child Left Behind Act, but it's also part of a more general push to make sure American kids can compete with kids internationally.
So in Ohio and other states, governments grade schools largely by applying formulas to student test-score data. And you end up with a series of state grades that might be helpful to policymakers and school superintendents trying to manage schools but are not always as helpful to parents.
Here's how Pallas describes the typical school report-card system: "It's way too complicated and no one really understands it."
You can't see the data that is collected
But here's the thing: The Ohio Department of Education does actually collect much of the information parents look for.
If you poke around enough on the state website, you can find school discipline data.
The state tracks how well schools prepare kids for college.
And the Ohio Department of Education spent part of its $4.4 billion federal Race to the Top grant to conduct surveys that asked students and teachers how they felt about their schools.
But that information doesn't show up on school report cards.
And, in the case of the school survey data, the Pearson Foundation, which was paid by the state to conduct the surveys, told us that we could not see any information about individual school districts.
A Pearson Foundation spokesperson said that information is confidential.