Loading...


Government and Politics



Tuesday, October 1, 2013




The Ohio Aerospace Institute has avoided layoffs so far




But the Cleveland-based technology support group is anticipating cutting employees as NASA Glenn funding dries up


by WKSU's KEVIN NIEDERMIER


Reporter
Kevin Niedermier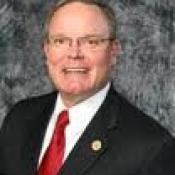 Mike Heil is head of the Ohio Aerospace Institute. He says the government shutdown will not result in layoffs this week. But if the standoff continues, that could change by next week.
Courtesy of Ohio Aerospace Institute
Download (WKSU Only)
In The Region:
Many technicians from the Ohio Aerospace Institute in Cleveland were working at their home computers today following the federal government shutdown.

The 20 technicians were shut out of their projects at the NASA Glenn Research Center, which closed this morning. The Ohio Aerospace Institute works with public and private aerospace groups and universities to increase competitiveness. The head of the institute, Mike Heil, does not expect any of the institute's 60 employees to be laid off this week, but that may not last.
"As things drag into next week, as we reach a situation where perhaps the fundingon our existing government contracts may be depleted, then we're going to have to make that hard decision to furlough.

"And, we of course would have to do it ... on people who are working on government contracts if the funding runs out," he said. but it also could extend to overhead and support functions.
Heil says about 70 percent of the Ohio Aerospace Institute's funding comes from NASA and other federal agencies. More than 1,600 of NASA Glenn's civil service employees were furloughed after the government shutdown at midnight. And more than 1,600 contract workers are shut out of the research center.
---
---
---
Stories with Recent Comments