Loading...



From WKYC.COM / TV 3
Get the latest school closings and delays


Funding for WKSU is made possible in part through support from the following businesses and organizations.
---
For more information on how your company or organization can support WKSU, download the WKSU Media Kit.

(WKSU Media Kit


)
---

Ohio



Tuesday, October 1, 2013




Gun rights group sues Oberlin, saying it can't ban even illegal guns in city parks




Ohioans for Concealed Carry argues it is strictly the state's pervue to limit weapons


by WKSU's JEFF ST. CLAIR


Reporter / Host
Jeff St. Clair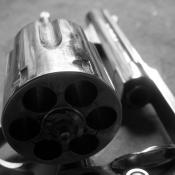 Ohio law says, "a person... may own, possess ...or keep any firearm." A gun rights group believes this is not limited to "legal" possession.
Courtesy of Flickr creative commons
Download (WKSU Only)
In The Region:
The city of Oberlin is once again in the sights of gun activists. The group Ohioans for Concealed Carry today slapped the city with a lawsuit over language that lifted a ban on firearms in city parks. Oberlin council last month amended the city's outright ban on guns to simply prohibit the "unlawful" possession of firearms. Gary Witt, director of Ohioans for Concealed Carry, says the word "unlawful" is illegal when describing gun possession.
"It doesn't make any difference what modifier you use, they are prohibiting possession. And possession (according to ORC 9.68) can't be regulated by any municipality. It's regulated by the state."
Oberlin had hoped to avoid such a lawsuit by changing the wording of its ordinance.
Since 2007, state law has prohibited municipalities from banning firearms in parks. Witt says that includes any gun -- legally owned or not.
---
---