Loading...


Sports



Wednesday, October 2, 2013




Terry Francona before the AL Wild Card game, and a quick primer




The one-game playoff will determine who goes onto the American League Division series against the best team in the American League: Boston




Story by

M.L. SCHULTZE AND KEVIN NIEDERMIER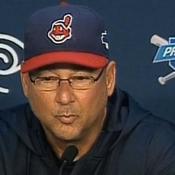 Indians Manager Terry Francona rookie Danny Salazar can handle the high-pressure start, while Justin Masterson is key in the bullpen.
Courtesy of Cleveland Indians
Download (WKSU Only)
In The Region:
Cleveland Manager Terry Francona helped dash the hopes of Indians fans in 2007, when he managed the Boston Red Sox -- which beat Cleveland in game seven of the American League Championship Series.

At a press conference this afternoon, he said the Northeast Ohio fans deserve to celebrate tonight and beyond.
The Indians won 10 straight games to end their regular this yearand to get to postseason play, and Francona says it was important to play each game with intensity.
Other options:

Windows Media
/

MP3 Download

(0:19)

Terry Pluto on The Dolans, Francona and the playoffs:
http://www.cleveland.com/pluto/index.ssf/2013/10/cleveland_indians_are_in_the_w.html



Now for the primer:

This is just the second year for Major League Baseball's Wild Card playoff, in which the top two teams who did NOT win their divisions get to the postseason to play one game against each other.
This year, Tampa Bay won a one-game "play-in" to make this one-game playoff vs. the Cleveland Indians.
The Pittsburgh Pirates beat Cincinnati to win the National League Wild Card game last night.
Tonight's game starts at 8:07 p.m. at Progressive Field, and if you're going, prepare for lots of traffic and to pay $30 for parking.
The Indians won 10 games straight to end the regular season.
Cleveland is starting rookie pitcher Danny Salazar, but the team is also giving him lots of backup.
Tonight's roster includes 11 pitchers, eight of whom are relievers. Closer Chris Perez, who has faded in the later part of the season, is on the roster.

Here's tonight's Cleveland roster:

Pitchers (11):
Matt Albers
Cody Allen
Rich Hill
Scott Kazmir
Corey Kluber
Justin Masterson
Chris Perez
Marc Rzepczynski
Danny Salazar
Bryan Shaw
Joe Smith
Catchers (2):
Yan Gomes
Carlos Santana

Infield (7):
Mike Aviles
Asdrubal Cabrera
Lonnie Chisenhall
Jason Giambi
Jason Kipnis
Jose Ramirez
Nick Swisher


Outfield (5):
Michael Bourn
Michael Brantley
Matt Carson
Drew Stubbs
Ryan Raburn
---
---
Stories with Recent Comments