About 500 Ohioans gathered on the steps of the Ohio Statehouse, holding signs and chanting: "We won't go back."
Dr. Lisa Parerria, an OB-GYN from Cleveland, held her newborn daughter as she told the crowd the new law is driving high risk maternity patients out of Ohio. She spoke of a couple who'd decided to end a problem pregnancy but first were forced to listen to the fetal heartbeat one final time.
"They had heard it a bunch of times before and that one last time might be incredibly painful for them. I'm forced to require them to do that and offer it to them," she told the crowd.
"I am also forced to (tell them) what the probability is of them carrying that pregnancy to term (even though) these are statistics that are technically not available and a probability that is impossible to determine.
"In addition, because of legislation that passed over a year ago, we have to do viability testing. And based on the definition of viability determined at my institution, I couldn't care for Sam and Jennifer. Instead, I had to refer them to the closest state without a viability law."
Kellie Copeland with NARAL Pro Choice Ohio says the new restrictions are forcing women to travel out of state to get abortions. And she says it's now harder for women, especially low-income women, to get birth control. She says if the goal is to reduce the number of abortions, these new laws are not working.
"The first abortion report came out for the Kasich administration. Did the number of abortions go up? Three percent. So whatever it is that you think you are doing Ohio Legislature and Gov. Kasich, you are doing it wrong."
Debating the numbers
Mike Gonadakis, president of Ohio Right to Life, says these new laws were put in place because Ohio lawmakers care. He says the disturbing part of the abortion report is that the number of abortions is rising among minorities.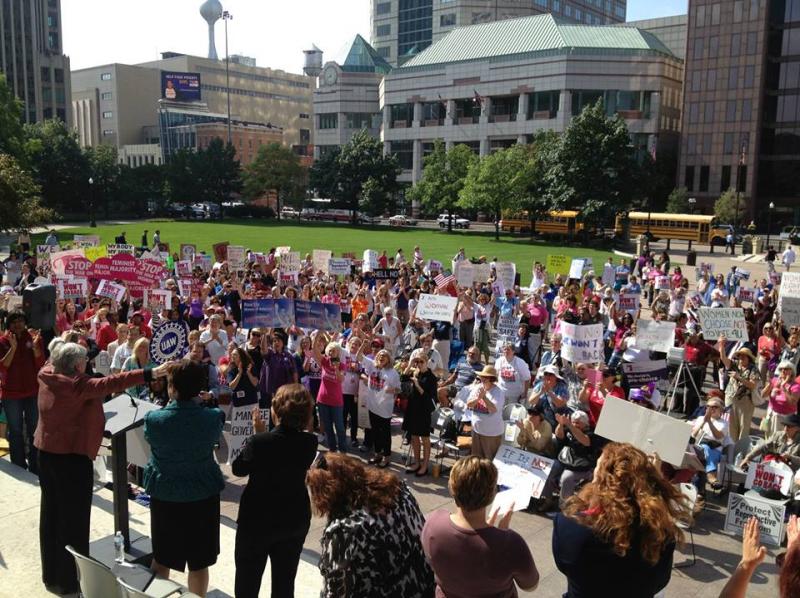 "What we see here is an alarming 5 percent increase in the number of African American abortions and we saw a 2 percent decrease in white abortions. So we have a major problem continuing in the African American community.
"The report showed that 42 percent of all abortions were on single black women and they make up only 8 percent of our state's population. Last year it was 38 percent, and now we are up to 42 percent.
Gonadakis says the recent anti-abortion laws will be better for women's health by making sure they have proper medical care and informed choices. He praises lawmakers for passing the legislation.
"As we know the majority of the general assembly, the overwhelming majority, are pro-life, elected by the citizens of the state of Ohio," he says, and he predicted efforts to turn back the laws will fail."
Many of the rally participants were holding signs, promising to vote against lawmakers who've supported this legislation. Those who like the new laws say they will fight as vehemently to keep them on the books, and to support lawmakers who agree with them.